by Rick Millikan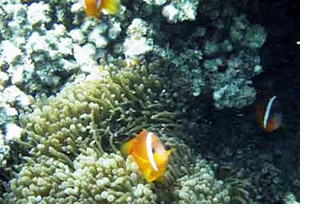 Of Fiji's many attractions, snorkeling in the South Pacific may be the most enticing. Thus I soon experience one of life's greatest joys exploring Taveuni's colorful offshore reefs. Amidst this kaleidoscope of activity, I approach green pipefish idling near the surface. Yellow-striped sergeant fish, vibrant angelfish and psychedelic Moorish idols swoop just below. Gold spotted rabbitfish, iridescent blue damsels and black and white batfish swirl through finger coral while a turquoise parrotfish gnaws creamy polyps.
Below a boulder-sized brain coral hosts tubeworms filtering micro-tidbits into their feathery red, blue, and yellow heads. A lavender-lipped giant clam is wedged below in rubble. Among branching pink corals I discover "Nemo" hovering with his mate above their anemone home. Bodies coated with protective mucus, these anemone fish guard their green tentacled sanctuary from enemies such as butterflyfish. Burbling goodbye to my finny friends, I return for morning tea.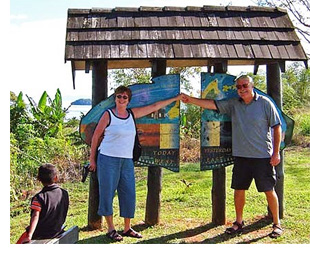 On the beach my love Chris and I soon sample tasty slices of yellow custard pie, often served at Fijian get-togethers…and succulent slices of local papayas, pineapples and bananas. Serving under a huge shady tree, a genial crew member points out the tree's large pyramidal fruit. Joseph tells us, "That's vuturakaraka. Its ground seeds were once used as poison to harvest fish."
Our Beverly Beach's white sands stretch just beyond Prince Charles Beach, which memorizes Chuck's royal dip in 1971, Fiji's independence year. An Aussie shipmate irreverently suggests renaming this strand 'Camilla Shores.'
Landing a few hours previously, on another palm-fringed beach, we'd boarded an open-air bus and shuttled off to Waiyevo to stroll across a rugby field to the 180-degree meridian and historic international-date line. Until this line was redrawn, a time warp existed. Taveuni was divided into two days. Cameras clicked as my spouse posed on the meridian's 'today' side, while I said "Cheese!" a day earlier on the 'yesterday' side.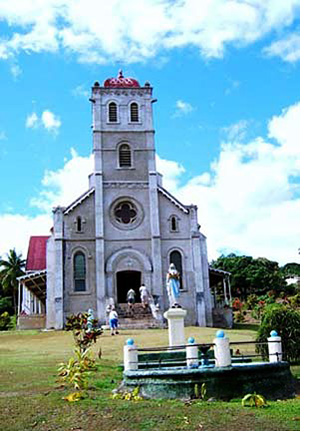 Just beyond, Wairiki Catholic Mission sprawled on a sunny hillside and provided further insights into Fijian culture. Palms flanks its century-old stone Romanesque church with stained glass windows rumored to be from a cathedral demolished during the French Revolution. Not an unusual sight in Fijian churches where pews are absent, parishioners of all ages sat on woven mats under the high-beamed ceiling.
On weekdays, twelve hundred primary and secondary students attended the adjacent school. I suspected a nearby gigantic slit log once drummed them to classes.
In the presbytery a painting hints at its unusual history. Fierce Taveuni warriors are depicted vanquishing Methodist Tongans in an offshore canoe battle. The Taveuni chief built Wairiki Mission as a reward to his tactical advisor, a Catholic French missionary.
Our tour continued through Somosomo, the island's largest village. Tumultuous greenery surrounded its pastel clapboard stores, public cinder block buildings and thatched homes. Fiji's Great Council of Chiefs met in its modern central hall influencing far-reaching policies. Further along the coastal road small villages, budget bungalows and resorts lay secluded in tropical greenery. "Camilla Shores"…or "Beverley Beach" made a perfect stop!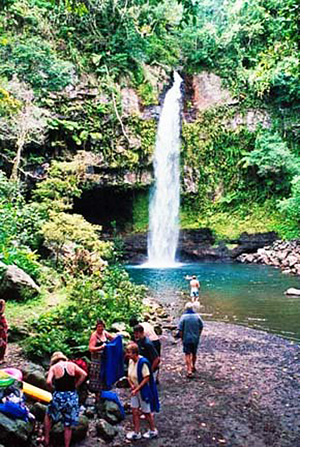 Now leaving this regal beach, we travel inland on roads bordered with cliffs festooned with purple creepers, white-blossomed vines and lacy ferns. Countless palms cover hillsides for copra production, which renders glycerin for soap; shiny metal bands encircle the trunks preventing rats and crabs from scuttling coconuts.
Bridging a river, our bus bumps along a gravel road into a plush valley and Bouma village. A grinning local leads us to Tovoro Falls along a grassy pathway bordered by variegated ti hedges. Papaya, banana, mango and breadfruit trees grow below. Alfie points out cassava, kava, dalo and numerous medicinal plants along the way.
Brought here to control coconut pests, Australian magpies now fill the air with sweet fluty melodies. Hearing a raucous interruption, I spy a small vibrantly colored parrot perched in a palm. Ancient Tongans regularly sailed here to barter for this kula's brilliant scarlet head feathers.
Arriving at the dramatic 100-foot waterfalls, half our group immediately strips down and plunges into the inviting crystal pool. The remainder gathers under two enormous Tahitian Chestnuts snapping photos. Circling around the impressive falls, I settle on a rock and contemplate the floral beauty.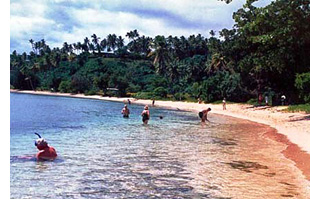 Sweet scented red gingers bloom among the dense greenery. Including nearby tree ferns, three hundred types of ferns flourish on Taveuni. Several palm species are found nowhere else on earth. Several swimmers climb the rocks to explore caves behind the falls. Riding rushing waters, I return to the sandy shore.
Isolated volcanic mountains and abundant food make Taveuni a natural haven for plants and animals. I'd read about Bouma National Heritage Park's largely unexplored rainforest stretching over 37,000 acres. Few travel to its crater lake to see Fiji's rare national flower. Fragrant garlands of these pure white and blood red Tagimaucia orchids were only given to visiting royalty. Many of Fiji's 170 identified orchids also grow there: more than 100 bird species make this rainforest park a bird-watcher's paradise.
There's no time left to hike the nearby rainforest trail to the magnificent upper falls or seek out the famed silk tails, wattled honeyeaters, orange florescent doves or barking pigeons. Joseph comforts us, "Ya' can't see everything! Come back and check out beautiful Lavena Beach, where 'Return to the Blue Lagoon' was filmed! And there's another waterfall cascading from high cliffs into the sea. Ships once sailed past Bouma Village under these falls to fill their holds with fresh water…"
We talk about returning to hike the lush uplands, pedal its scenic roadways, snorkel offshore reefs and kayak its dazzling coastline. How I'd love to scuba seeing Rainbow Reef's famed soft corals or descend into the Great White Wall, a spectacular marine canyon!
Many dream about romantic life on some South Sea island. Fiji offers 322 possibilities. Sampling this island paradise, we fully appreciate Taveuni's offering of bula packed experiences.
About the authors:
This week Traveling Tales welcomes the travel writer team of Rick and Chris Millikan who live in North Delta, a suburb of Vancouver, B.C.

IF YOU GO:

Fiji Islands Travel Guide www.fijime.com
Blue Lagoon Cruises – Boutique island hopping journeys exploring Fiji's turquoise lagoons and palm fringed white beaches. www.bluelagooncruises.com
Photos by Rick and Chris Millikan:
Fiji's Anemone Fish
Couple Date on the Dateline
Waikari Catholic Mission
Buomo Falls
Taveuni Beverley Beach