By Chris Millikan
From the quaint balcony my husband, daughter and I surveyed Malaga's vital seaport, founded on the Mediterranean by seafaring Phoenicians in the 7th-century. Below, handsome plumed horses on sunset city tours pulled turn-of-the-century carriages along tree-lined esplanades. Our summer road trip to historic highlights in three of Spain's southern cities began at the Palacio, a traditionally furnished old-town hotel.
Not far from an unearthed first-century Roman amphitheater near the hotel, we wandered the 10th-century Alcazaba-ruins. Winding along its pathways and lingering in breezy courtyards, we imagined living in this ancient Moorish castle just like the powerful Ferdinand and Isabella once did.
Today, spreading orange trees and purple bougainvillea shade remarkable grounds overlooking the busy city below. Within, museums outline a riveting past: the Archeological Museum features Phoenician, Carthaginian, Greek, Moorish, Arab and Christian influences, ancient pottery in the Ceramics Museum.
Before breakfast next morning we discovered the renaissance majesty of Malaga's famed 16th-century cathedral, prominent in this cosmopolitan city. Immense, the Cathedral of the Incarnation took over 200 years to build. Several magnificent naves enclose relics of long-dead clergy; decorated choir-stalls still impress. Fondly nicknamed La Manquita by locals, one of the 'one-armed lady's' towers remains unfinished to this day.
Across the plaza the humble house where Pablo Picasso was born is now a popular museum filled with his earliest works. Despite leaving the region as a child, he continues as Malaga's most celebrated son.
Lingering over freshly squeezed orange juice, savory ham and cheese croissants and pungent café con leches, sleepy Sunday streets awakened to another glorious morning, typical along the sunny Costa del Sol. Soon heading for Seville in our rental-car, countryside panoramas of yellow sunflower fields and dusty olive groves shimmered along the superhighway for several pleasing hours.
A pit-stop picnic with frosty orange-flavoured sparkling water hit the spot before we continued on into the beautiful city where six centuries of kings held grand court, Columbus docked at the river-port and Bizet's mysterious Carmen rolled fat cigars in the factory now housing the university,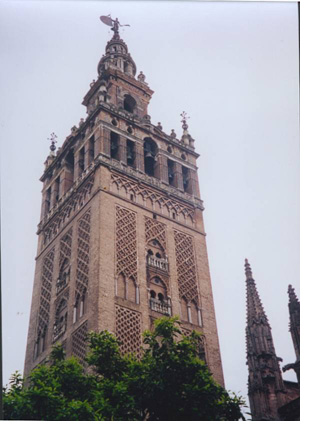 Our daughter quickly spied the signposts pointing to our hotel in Seville's historic district. After much jockeying, my hubby maneuvered us into an underground space the size of a postage stamp. Abandoning the rental there during our stay, we easily walked everywhere, often along picturesque one-way streets designed long ago for horses and buggies.
A city block in size, Seville boasts the third-largest European cathedral following St. Peter's in Rome and St. Paul's in London.
With flying buttresses and age-old holy treasures, the famed Cathedral of Seville replaced an enormous mosque in the 14th-century. Court of Orange Trees and pinkish-brick Giralda-tower are the only Moorish-era remnants left.
Long attached to the magnificent stone structure, that single minaret has become a familiar monument. Scampering up its 35-story bell tower just before sunset afforded superb city overviews.
Intricate iron screens fronting a line of secluded chapels, paintings by Goya and Murillo and 15th_century stained glass windows highlighted solemn gothic interiors. As well as the chapel entombing Spanish royalty, Columbus himself rests in a massive, elaborately gilded sepulcher.
A 14th-century royal residence just to the north, the marvelous Reales Alcazares is home to King Carlos and Queen Sofia who reside in the same richly ornamented private apartments where Isabella and Ferdinand had received Columbus on his triumphant return from America.
Near the Alcazar's walls, tiny plazas in Barrio de Santa Cruz shimmer whitely in the sunshine. Once a ghetto for Spanish Jews, the little upscale balconies now trail bougainvillea and crimson geraniums, shading the narrow medieval streets below.
Stopping for plates of mouth-watering tapas and chilled sangria at a legendary sidewalk taverna, we were delighted that Cervantes, de la Vega and Lord Byron had 'hung out' at Las Escobar in their day, too, perhaps soaking up the ambiance of the pretty streets or people-watching just like we loved to do.
Fascinated by the many white washed homes carved into dry golden-brown hillsides for miles along the autovia, our final destination was the last stronghold of Moorish Spain.
We breezed smoothly along…until exiting directly into Granada's sweltering, snarled gridlock. Fortunately for us, a grinning elderly senora redirected us onto a ring road freeway circling around the city into the romantic old sector where Spain's grandest monument stands majestically on a rocky hill above the Darro River.
Built over many centuries for defense, the fabled Alhambra's magical gardens, fortifications and lavish palaces evolved into a magnificent stronghold.
The first to expose its fascinating mysteries to the world, Washington Irving researched his book, 'Tales of the Alhambra,' while living in its open-air rooms with lacey walls and delicate colonnades, carved cedar-wood ceilings and sweeping courtyards shimmering with fountains.
Together with elaborate gold inscriptions and highly decorative blue-tiled-arches it still enchants hordes of visitors to this day.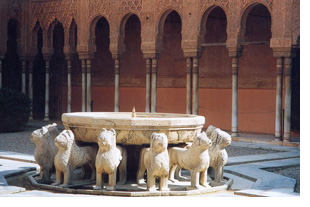 Powerful sultans carried out their domestic lives in luxurious Court of the Lions, harems strictly guarded by trusted eunuchs. Over in the splendid Hall of Kings, entertaining diversions amused sultans and dazzled their guests.
Sauntering through glorious gardens and shaded courtyards filled with splashing fountains at nearby Generalife, it was so easy to imagine royal households spending long, hot summers in cool retreat at this gracious summer palace.
Exotic revelations disclosing beguiling 13th-century lives so different to our own wrapped up extraordinary summer discoveries.
Back on the autovia we returned full circle to Malaga after exploring three historic Spanish cities, remembered still.
About the author:
This week Traveling Tales welcomes Canadian freelance travel writer Chris Millikan who lives near Vancouver, on Canada's West Coast.
About the photos:
1: The walls surrounding Malaga's Moorish Alcazaba. Chris Millikan photo.
2: The tower of Seville's cathedral. B.J. Cooper photo.
3: The graceful Courtyard of the Lions at the Alhambra in Granada. B.J. Cooper photo.