by Rick Millikan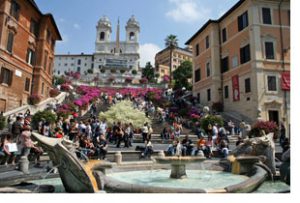 While rolling our baggage from nearby Termini Train Station, my wife Chris and I contemplate a dream come true: visiting Rome's regal ruins and gorgeous gurgling fountains. And then…we stumble onto Egypt.
Passing an obelisk in the Piazza della Repubblica befuddles us; to our surprise, it once embellished Rome's Temple of Isis, an Egyptian goddess of fertility and motherhood.
Checking into Hotel Zara, I'm now surmising our hotel was named after the biblical Pharaoh Zara. Accommodated so auspiciously in the historic heart of Rome, we get ready to stroll into intimate discoveries planning to return by bus wearier but wiser to the "Luxor-ious Zara."
Seeing us swoop downstairs, the desk clerk chirps, "Buon Giorno!" and with a flourish presents a city map, circling popular sites in black.
Proceeding down busy Via de Quattro Fontane, we encounter its four namesake fountains. Here toga-clad Romans frozen in marble adorn each intersection corner.
This elevated crossroads offers a unique panorama. Looking southeast, we spot Basilica di Santa Maria Maggiore, to the southwest Quirinal Palace, residence of Italy's president and to the northwest, Basilica Trinita del Monti, our first destination.
Down a blackened brick sidewalk, we arrive astonished as another obelisk rises beside Basilica Trinita del Monti. A first century emperor commissioned this obelisk's creation and had it grace Sallustian Gardens near the Temple of Diocletian. Over a millennium later Pope Pius VI placed it here.
Buying raspberry and chocolate gelatos at a piazza refreshment van, we savor our dribbling treats descending the famed Spanish Steps.
Pausing upon its wide deck, we admire pink, purple and white-blossomed bougainvilleas framing this grandiose stairway that flows downward between mustard-colored and orange-hued blocks of four-storied buildings. Art students sit sketching its majestic symmetry.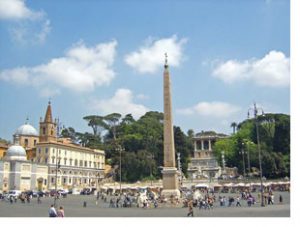 Minutes later we're in sprawling Piazza del Popolo, where the centerpiece is still another towering obelisk.
Pope Sextus had topped this one with a cross and installed it here. Emperor Augustus had first appreciated these hieroglyphic clad monuments, shipping two red granite obelisks from Heliopolis to imperial Rome. Originally he had this Ramses II obelisk erected at the Circus Maximus, with seating for 150000 spectators.
Our walk continues toward the great Tomb of Emperor Augustus, a massive round brick structure. We note two obelisks were uncovered at its entrance and now stand in front of Basilica di Santa Maria Maggiore and Quirinal Palace.
Proceeding under shady sycamores along the Arno River, we contemplate its many eras of commerce.
On the opposite shore rises Rome's ornate Justice Building, sporting bronze and marble statuary, mighty Castel San Angelo and the shimmering green copper domes of St. Peter's Basilica. In the distance, rusty-hued ruins sprawl across Palantine Hill. Augustus had built his magnificent palace there high above the Roman forum and Circus Maximus.
A darkened archway leads us through antiquated buildings into the sunny Piazza Navona.
Long a bustling marketplace, its extensive size and oval shape suggests its historic origin, a Roman circus. Al fresco restaurants now fill the air with spicy aromas; skillful artists and artful boosters sell their wares around three ornate fountains. Attracted here to admire Bernini's Baroque masterpiece, we discover his beautiful Fountain of the Four Rivers surrounds the pedestal of yet another obelisk.
Emperor Domitianus had ordered this obelisk created at Aswan with hieroglyphs depicting a goddess presenting him a Double Crown.
Shipped to Rome, the obelisk once stood before temples, the grand chariot race stadium and ultimately the Apian Way. Found broken over a thousand years later, Pope Innocentius X restored and re-erected it in his Piazza Navona neighborhood commemorating his election. Bernini fashioned a bronze papal dove for its apex.
Winding through narrow unmarked streets, we hope to arrive at the Pantheon. But we're soon lost…and hungry. Luckily, a budget sidewalk café appears.
Pointing to illustrations on the menu, a raven-haired Cleopatra soon delivers cold beers and crusty Marghareta pizzas. We toast that Naples pizza maker who honored Queen Marghareta with his savory creation. His delicious pizza proclaims the colors of the Italian flag: saucy tomato red, leafy basil green and mozzarella white. "Viva Italia!"
Replenished and reoriented, we find the Pantheon nearby. Converting this ancient pagan temple into a basilica, Christians have long marveled at its immense dome.
And yes! Just outside, Pope Clemens XI had installed an obelisk…this time crowned with a star and Christian Cross…soaring atop a dolphin fountain. Credited to Ramses II, this red granite obelisk was one of two once flanking the ancient Roman Temple of Isis.
Next morning, a bus carries us to the Vatican.
Like most visitors, we're there to experience its sensational Museums displaying a huge treasury of artwork, including Michaelangelo's extraordinary ceiling fresco in the Sistine Chapel.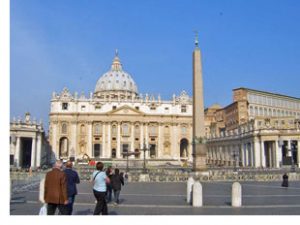 Entering between two immense colonnades topped with rows of marble saints, we walk toward the huge statues of St. Peter and St. Paul. Above us towers St. Peter's Basilica, its own roof lined with white stony apostles.
We're on holy ground… feeling wholly comfortable with the monumental pillar amid St. Peter's Square. Uncovered nearby at ancient Caligula's Circus, Pope Sextus had resurrected Rome's second largest obelisk here, like all the others, pointing straight to heaven.
Of thirty obelisks worldwide, only seven remain in Egypt while thirteen still adorn Rome.
Shuttling homeward, we chat about a return to see the seven obelisks we missed, including the world's largest from Karnak Temple now standing in front of Palazzo Laterno in Piazza di San Giovani.
We'll also visit Rome's marble-faced 30-meter high pyramid built in 12 B.C. to entomb Caius Cestius.
In our few days here, we learn the grandeur that was Rome…was often Egyptian. And there's nothing like a Roman holiday that includes a bit of Egypt!
About the author:
This week Traveling Tales welcomes freelance travel writer Rick Millikan who lives in North Delta, a suburb of Vancouver B.C. on Canada's West Coast.
About the photos:
1: This obelisk was once located at Diocletian's Temple. Now rises above the
Spanish Steps. Chris Millikan photo.
2: Rome's first shipped obelisk graces the Piazza Populi. Rick Millikan photo.
3: Rome's second tallest obelisk stands majegstcally in St. Peter's Square. Rick Millikan photo.