by Kathleen Walls
For those of us of a certain age, the legend of the Pony Express is branded into our collective consciousness by images of larger than life heroes engaged in non-stop adventures as they blazed an endless trail across the American west. With idols like Roy Rogers, Gene Autry and John Wayne thundering across endless deserts pursued by bloodthirsty Indians, how could we believe otherwise? As so often happens, the reality is greater and less than the legend. In fact, the Pony Express lasted only 18 months.
On April 3, 1860 the Pony Express began its first run. When the riders galloped into what is now Nevada, they found few settlements.
What they did find was some of the most beautiful landscape imaginable, from flat desert to craggy mountains.
Blooming sage turned autumn into a sea of gold. Quaking Aspens shimmered in the sunlight. Mountainsides assumed fascinating shapes. Wild horses, eagles, coyotes and other wildlife flashed across their vision as they raced across this lonely countryside.
I recently revisited "those thrilling days of yesteryear," on a drive across Nevada's Highway 50, which closely follows the old Pony Express route.
Here you will see the "other" Nevada. There's no resemblance to glitz and glittery Vegas. Instead I found a panorama of scenic and natural wonders, ever-changing landscapes and a trip back in time.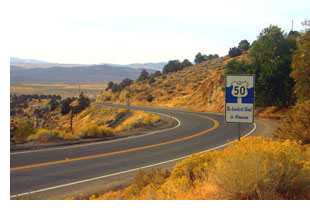 In 1986, Life Magazine denigrated Hwy 50 as "The Loneliest Road in America." They advised people not to visit it and warned that to traverse it you needed "survival skills."
Well, lonely isn't always a dirty word.
Local entrepreneurs turned that slur into a mantra of honor. They use it as their slogan and give a certificate to those who travel America's Loneliest Road. To get in on this piece of tongue in cheek fun, get your passport at any chamber of commerce on highway 50 and have it stamped in towns along the route.
Begin your trip in Fallon. Where the Churchill county Museum offers a glimpse into the earliest white settlers and the Paiute people who were already there. Corn was a Native American staple so I visited Lattin Maze and traversed a life sized corn maze.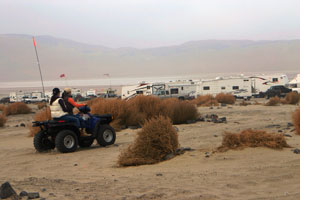 Just an hour down Hwy 50, I discovered Sand Mountain, formed about 4,000 years ago, it towers about 600 feet and attracts sandboarders and ATVers from all over. Adjourning this natural phenomenon is one of the best-preserved Pony Express station houses in Nevada, Sand Springs.
A few hundred yards away is a reminder of the technology that replaced the telegraph, a lonely pay phone.
Continuing down that lonely road to Austin I found a well preserved old mining town. Precariously perched on a mountainside, it's one of Nevada's best-kept secrets. With a population of around 300, it is hard to believe it can offer so much.
There are three historic churches, St Augustine Catholic Church, the Methodist Church, and St. George's Episcopal Church. Visit the gem shops and browse the colorful streets and you can see yourself back in the 1860's. I really enjoyed The T Rix Bike Shop.
It is so much more than a bike repair shop. You can get a light lunch. Those of you longing for a touch of civilization can get a latte or expresso there but the most unique item on the menu is a real New Orleans snowball made on an old Snow Wizard machine from New Orleans!
Also ask Patsy Waits, the owner, about the Pony Express. She can tell you everything you might want to know about it. One of the most unusual structures in Austin is Stokes Castle. It was built by Anson Phelps Stokes in 1896 –97 as a summer home and occupied by his family for just over one month.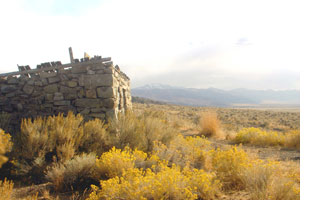 Many other stone structures dot the landscape along Highway 50. These ruins are what remains of tiny hamlets that once dotted the landscape during the mining booms.
U.S. Highway 50, just east of Austin, Nevada is a site that far predated the pony express. The earliest petroglyphs found at Hickison Summit date back about 8,000 to 10,000 years.
In Eureka, I visited the restored Eureka Opera house and the Eureka Sentinel Museum.
Ely offers a unique recounting of its history. Painted on the walls of many of the town's old buildings, The Ely Murals depict the town's unique history.
Hotel Nevada, standing six stories tall, was the tallest building in Nevada until 1948. It offers a casino and restaurant too but in it's a museum also. Scattered among the slots are memorabilia of yesteryear.
There is a Stars Walk of Fame in front of the hotel complete with the town's best-known native, Pat Nixon. While there, ride the Ghost Train, a restored steam train of the mid 1800's.
While not totally on the track of the old mail run, the Great Basin Park cannot be missed. It is one of the newer national parks established to preserve the unique ecosystems of the Great Basin; mountain peaks, alpine meadows and lakes, limestone caves and its plant and animal life.
I drove the twelve-mile Wheeler Peak Scenic Drive to visit an ancient Bristlecone forest; these misshapen twisted trees are as over 5000 years old, the oldest living things on earth.
On October 28, 1861, the Pony Express completed its last run. An unforgettable era passed into history. It was replaced by the telegraph. Ten days was cut to ten seconds. Progress marched on but the legend would not die.
Today, we still search for the elusive truth somewhere between Hollywood's portrayals and actual fact. Standing on America's Loneliest Road I could look down that narrow ribbon of asphalt and imagine it just as it was over a century ago.
If I squint a bit into the setting sun, I can even visualize a lonely rider galloping westward and vanishing over the horizon.
About the author:
This week Traveling Tales welcomes publisher, author and freelance travel writer Kathleen Walls who lives in St.Augustine, Florida.
About the photos:
1: The Lonliest Road in America accesses some of the most beautiful places on the planet.
2: A pair of ATVers anticipate the challenge of Sand Mountain.
3: A derelect house, as seen in many ghost towns along the way.