by Margaret Deefholts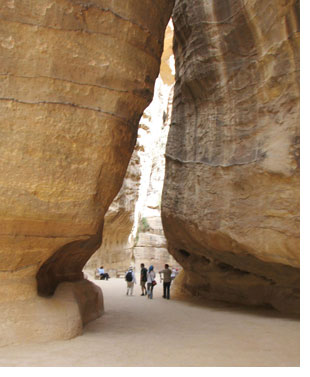 Okay…perhaps not exactly "petrified", but certainly awfully apprehensive! I'm standing on a rough pathway, and far ahead of me, now disappearing caterpillar-like into a cavernous opening, is the rest of my group. It is dark; the only lights along the way are a series of dim candles inside brown paper bags, lining one side of the path.
This is Petra by candlelight-and something I've come half way across the globe to experience. But…"The path is uneven, and it's easy to stumble and fall," the guide had said, "so watch your step very carefully."
I'm cursing my short-sightedness-both literally and figuratively. I'm night blind, have a recent leg injury, and have left my flashlight behind at the hotel. Too far to go back and retrieve it. My group has now been swallowed up inside the black Siq ahead. I stand irresolute, shifting my weight from one foot to the other.
One of the security guards approaches me. "What's wrong?" he asks.
I explain. My voice quavers with disappointment. He peers closer at me. "No problem. I'll take you with me. Come…" He takes my hand gently in his, and leads the way. He says, "Petra is so beautiful by candle-light…and you have come all the way from Canada…"
He is as good as his word. In some spots where the cobble-stones are rough, he puts his arm around my shoulder. "Slow, slow," he cautions.
His name is Yousuf, and he is not much older than 25. His family, he tells me, live close to the Syrian border and, intending it as a compliment, he adds that I look like his grandmother! "Same white hair," he says. "Same nice smile!"
As we wind deeper into the Siq, the towering rock walls close in. The candle-lit path twisting through the narrow canyon is deserted, hushed-and I instinctively fall silent. My companion whispers, "It is wonderful, is it not?"
The Siq, as I'd discovered earlier, was a different world by day. I'd been dazzled by the play of light and shade, the hues of the immense walls of rock face that varied from a glowing peach to orange, gold and turquoise. In some areas, the swirls of coloured stratas did indeed resemble petrified wood. The winding 2 kilometre cleft with its rough 2000 year-old cobblestones had resounded to the clatter of light horse-drawn vehicles carrying passengers who were unable, or unwilling, to walk the distance.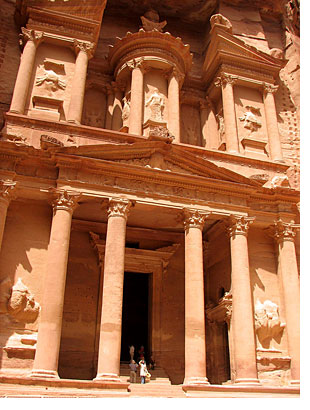 The canyon walls had fallen away suddenly, dramatically. Like curtains being drawn aside from a stage the famed Treasury of Petra stood revealed-in all its rose-hued glory. Although it is the most photographed sight in Petra, it came as a small shock to actually stand in front of it; to take in its enormous size and grandeur.
The Treasury's function remains an enigma, although one thing is certain: it was never an actual treasury.
However the name "El Khazneh" meaning "Pharoah's Treasury" perpetuated a myth so persuasive that every passing Arab with a gun in hand, took a pot shot at the urn on top of facade, in the (vain!) hope that its treasure would shower down upon him!
The monument may have been a royal tomb, or a memorial mausoleum-its façade decorated with mythological Nabatean Greek, Egyptian and Roman gods, goddesses, birds and animals, all of which are associated with the afterlife.
When Petra was rediscovered by Swiss explorer, Johann Ludwig in 1812 it was assumed that this was a vast Nabatean burial ground with tombs hewn out of the rock-face.
However, further excavations revealed residential-type cave complexes, several public buildings, and a sophisticated water distribution system-all of which indicated that Petra was actually a thriving Nabatean city of several thousand inhabitants that flourished between 60 BC and 200 AD.
By mid-day, the heat was blow-torch fierce, and the shadows short as I scrunched my way along the hot sandy pathways, map of Petra in hand.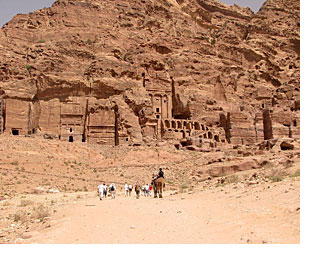 The ancient walled city sprawling over steep hillsides is enormous; far larger than I could cover in a day. The Street of Facades leading off the entrance square took me past a series of royal tombs.
The rock-cut steps are steep and uneven, and I envied my lithe young companions, who unhindered by leg injuries, scaled their way up. Reduced to antlike proportions they crawled along the catacombs, pausing to wave to me from time to time.
A boy leading a donkey eyed me hopefully. "I take you to High Place of Sacrifice?" he offered. The site is reputed to be one of the best preserved ancient sacrificial sites, and I was tempted to accept the invitation. However the group was, by then, on its way down to rejoin me.
We filed along the ancient stone-flagged colonnade (once Petra's main street), where steps led to the well-preserved ruins of the Qasr Al-Bint Temple. Constructed between 30 BC and 40 AD, it is dedicated to Dushara, the Nabatean god of wine, as funeral banquets apparently involved a goodly amount of imbibing.
The Al Deir "monastery" is second only to the Treasury in terms of impressiveness, and the view across the entire area, is nothing short of spectacular. However, the long hike up 800 rough-hewn steps is not for the faint-hearted or the athletically challenged. I'm both. I consoled myself with the idea of doing the candle-light walk instead.
And so here I am, with my Good Samaritan.
We emerge out of the Siq onto the square where the Treasury glimmers in the light of hundreds of flickering candles. A plaintive Bedouin melody played on a flute wafts on the cool night air. Yousef hands me a cup of honey-flavoured tea.
A full moon creeps across the desert sky and as the music dies away, the audience remains hushed-held in the spell of this splendid and ancient land.
About the author:
This week Traveling Tales welcomes Margaret Deefholts, an author and freelance travel writer
who lives in Surrey, a suburb of Vancouver B.C.
About the photos:
1: In the Siq, en-route to Petra
2: Behold – The Treasury
3: Approaching the Royal Tombs
If You Go:
Royal Jordanian Airlines operates twice weekly non-stop flights from Montreal to Amman on Mondays and Fridays. For details go to: http://www.rja.com.jo/Home/tabid/260/Default.aspx
Getting to Petra:
By bus: Alpha Daily Tours organizes full day tours from Alpha Terminal (Gulf Hotel) in Amman. JETT also operates a fleet of airconditioned coaches to Wadi Musa (Petra) from Abdali Station in Amman
By car: Wadi Musa (Petra) is a 3-hour drive from Amman on the Desert Highway.
By taxi: Negotiate prices (roughly 50 Jordanian Dinars for a one-way trip) before departure.
For more detailed information go to:
www.visitjordan.com/visitjordan_cms/Default.aspx?tabid=90
Where to Stay:
There is a large range of hotels to select from in Wadi Musa. Five star hotels include the internationally known Crowne Plaza Resort and the Mariott Hotel. For the ultimate in luxury the Movenpick Resort Petra Hotel is a winner. For a range of less expensive hotels go to www.visitjordan.com/visitjordan_cms/Default.aspx?tabid=81
which lists hotels by ratings.
Several Canadian tour operators handle trip arrangements to Jordan. See www.visitjordan.com/visitjordan_cms/TourOperators/tabid/55/Default.aspx
for contact details.
General Information:
The climate is generally sunny and cloudless, with temperatures in the range of 25oC – 32oC. Nights can be chilly – take a light sweater.
Women should dress conservatively (sleeveless apparel isn't appropriate). One or two-piece swim-wear is acceptable in hotels, and on beaches.
The Jordanian Dinar is equivalent to CA$1.52 (varies). Most credit cards are acceptable. Canadian dollars aren't widely accepted and while U.S. dollars are, smaller shops prefer payment in Jordanian currency.
Tipping is the norm, rather than the exception.
The souks (markets) in Jordan offer a range of modern and traditional crafts. Bargaining is an accepted tradition. Traditional crafts include very attractive glass, ceramics, woven scarves and Bedouin jewellery.