by Connie Motz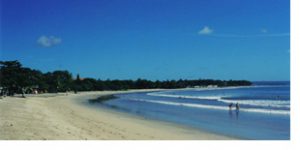 Located in South East Asia, the mystical island of Bali is only one of 18,110 islands making the world's largest archipelago – Indonesia. I have had the wonderful privilege of visiting this exotic island twice – this second trip was made with my husband of twenty years.
We arrived in Denpasar taking a hurried taxi ride to south Kuta Beach where we stayed at the Bali Hai Resort & Spa. The horrendous traffic of rushing motorcycles was left far behind as we arrived at our deluxe ground floor suite overlooking the lush tropical hotel gardens.
Balinese Traditions
We chose to splurge on a deluxe room to experience the traditional outdoor Balinese bathroom – now, I truly believe one has not lived until they have showered amongst tropical foliage underneath turquoise skies – it is an experience not to be missed.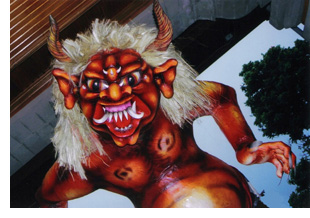 Upon our arrival at the hotel we had noticed (how could we not) a huge 20-foot dragon like creature in the breezeway of the hotel. We learned he was called an ogoh-ogoh but soon we came to know him as simply as 'Bob.'
We saw several other ogoh-ogohs throughout Kuta but Bob was definitely amongst the scariest. We were told these paper-mache giants came from classic Bali folklore and are re-constructed into larger than life full color monsters with huge fangs, bulging eyes and very wild hair.
These fantastic monsters symbolize any evil spirits on the island that must be gotten rid of in order to maintain peace & harmony. We left Bob to diligently watch over our hotel.
On our fourth evening at the resort, we returned from a leisurely dinner and found a letter from hotel management explaining that in two day's time was the Balinese New Year and that Nyepi (the Day of Silence) would be in effect.
It stated we must remain at the hotel and that all stores & restaurants on the island would be closed. Of course, basic provisions would be made available to all hotel guests. There would be no traffic, no visible lights, no noise, and no love-making. Everyone on Bali was to remain silent and in their own homes.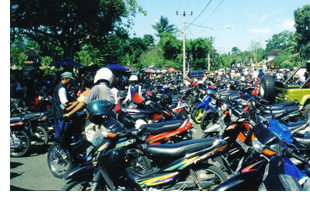 This prohibition would last for 24 hours. Hard to imagine that all the hustle and bustle of Kuta – which never seems to end – could just disappear. The darkness and silence of the island was to fool any lurking demons into thinking no one was home and so they simply would not come to the island.
We were not at all prepared but kindly respected the wishes of the hotel and readily became excited to be participating in such an important event in Balinese culture. The Balinese are a very religious society who practice a modern form of Hinduism. They express their beliefs daily through providing offerings (known as banten) of rice, fruit, and flowers placed on the ground in small woven bamboo baskets completed with a stick of burning incense – all to appease their gods.
Throughout the day on the eve of Nyepi, known as Hari Pengerukan, the streets of Kuta became full of giant ogoh-ogohs. Surreal in a way, yet very appealing with their colorfulness and sheer size drawing us in.
Traditionally, the male Balinese youth are the makers of these giants and were proudly about displaying their hard work. The planning and construction starts one to two months prior to Nyepi Day and entails many late nights.
The ogoh-ogohs are constructed on intricately woven wire and bamboo frames covered with paper and cloth. They are painted and decorated in amazingly bright colors – all to ward away the evil spirits.
Each ogoh-ogoh is rumored to cost between 2 and 6 million rupiah (approx $400 CAD or $355 USD) which is fund-raised in local communities. This is a staggering amount of money to any typical Balinese family as the average monthly wage is a disheartening $56 CAD or $50 USD.
Back at our hotel, the ceremony began just before dusk with the blessing of Bob. Holy water was sprinkled and a prayer said, then the music commenced.
A strange combination of cymbals, gongs and drums – a loud clattering seemingly lacking any rhythm – once again, to scare away any evil demons. With somewhat of a struggle, the men finally lifted Bob onto their shoulders and made way towards the gardens of the hotel.
Due to the heavy nature of the beast, Bob's weight shifted easily causing many near accidents. They rounded the pool area when someone lost hold and Bob went half tumbling into the pool.
Processioners quickly jumped into the water to keep Bob from drowning – in fact, they did such a good job that Bob never even touched the water. The haunting music continued as Bob made his way to the ocean.
The final ritual must be performed at sea and at dusk they arrived on the white sandy beach where Bob was to meet his end. Once more Bob received what was to be his final blessing before being set ablaze.
The drums continued to beat as the crowds grew and the flames of Bob reached up to touch the night sky. Setting fire to the ogoh-ogoh (poor Bob) is done to finally destroy any evil spirits once and for all – well, at least until the next Balinese New Year comes along.
On Nyepi Day, we remained at the hotel – the restaurant was open until the early evening when everyone was encouraged to return to their rooms and draw their curtains closed so no light would escape. What to do in a hotel room in paradise? Read a book? Quietly watch television?
Well, no one would certainly know if I took advantage of our outdoor bath and took a long shower under the beautiful sparkling stars, would they?
Apparently not as the next day the island of Bali was alive and well – hustle and bustle included.
About the author:
This week Traveling Tales welcomes freelance travel writer Connie Motz who makes her home in Genelle, B.C. Canada. See more of her work on her website at www.vacations.pro.
Connie Motz photos:
1: Our destination, Kuta Beach.
2: The ogoh-ogoh known as "Bob".
3: Kuta prior to Nyepi.