Story and photos by Susan Deefholts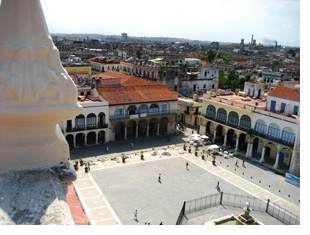 I look down at the cobblestones outside the Palacio de los Capitanes Generales in Havana, Cuba. They are rectangular, and laid flush, like bricks—except that they're brown and have an intriguing grain to them. "Unusual, isn't it?" Our guide, Pepe, grins at my puzzlement. "It is exactly as it looks. The street here is paved with wood." He points to the elegant facade across the street. "The bedrooms of the Governor and his wife were just up there. So as not to offend their ears with the sound of horses' hooves and cart wheels, they installed the wooden cobblestones to dampen the sound."
We are in Old Havana—except that it looks far newer than the rest of the city, thanks to extensive restoration and renovation projects.
We enter the palace and walk across the foyer to the courtyard beyond, just in time to see a peacock fan its tail and begin a promenade through the cool, inviting garden that is nested within the palace's embrace.
Later, we climb up to the second story of a building on the edge of the Plaza Vieja and look out over the courtyard and the city. The view is a little disconcerting.
In our immediate vicinity: candy-coloured pastels and crisp, new facades that look like a Disney version of Havana. Though it is wonderful to see that the beautiful city is finally getting the care it requires, it also feels a little like someone built an historically accurate replica of what Havana once looked like, but didn't think about adding a patina of age to lend it character.
But then, you look further afield. There's no transition at all. From candy colours and Disney, to Old Havana, un-retouched and authentic. Some buildings look like a bomb was detonated inside. The nicer ones although bedraggled, with faded, peeling paint, are blessed with intact columns; others use unfinished two by fours to prop up sagging doorways and balconies.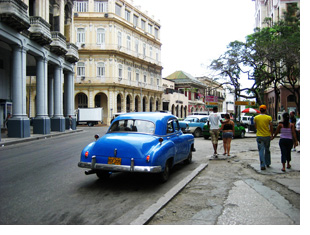 We continue our tour, indifferent to shops in the old city, most of them offering luxury goods we could just as easily buy at home. But, there is one establishment we cannot resist the chocolate shop.
Inside, the air is redolent with the enticing dark aroma of hot chocolate being served at antique-chic tables. My husband and I exchange glances, our weariness supplanted by anticipation. "Our treat," we tell Pepe.
When the hot chocolate arrives, it is thick enough to stand a spoon in. Rich and sweet, but with a sharper edge of bitterness than we're used to, it is a like meal in a cup. We drink it in slow sips, rolling the complexity of the flavour over our tongues, before swallowing it down.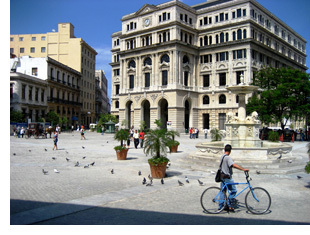 Then, our flagging energy restored, we bid our farewells to Pepe, and head for that other Havana, un-restored and compelling, which has been calling to us all day. Here, it's all but impossible to find convenience stores, and restaurants are often as not in someone's house, a small sign in the window proclaiming their status.
As the tropical evening tints the sky mauve, we find our way to La Zorra y el Cuervo—the Fox and the Crow—a cramped basement that is one of the hottest Cuban Jazz tickets in town.
We are starving after our wanderings, but the best they can rustle up is a plate of ubiquitous ham and cheese sandwiches that are so popular in Cuba.
The place fills rapidly and a haze of smoke soon thickens the air.
The musicians strike up the beat. The lead singer, a curvaceous woman with wavy black hair and a mischievous grin, has a full, throaty voice and a sensual, grounded singing style. The rhythm and the instrumentation are as rich and earthy as dark Cuban chocolate.
We allow ourselves to be engulfed by the lush, vibrant rhythms of Havana.
About the author:
This week Traveling Tales welcomes Susan Deefholts, a freelance travel writer who lives in Ontario.
If you go:
www.gocuba.ca/en/destination_habana.asp
Casa Particulares offer rooms for rent in private houses. Casa de Ana, at www.anahavana.com, has useful information about the city, lots of links and even walking tour maps. Ana is very helpful, checks her email regularly, answers questions and provides services even if she doesn't have availability at her place. Her friend Pepe offers walking tours of the city.
No American travelers checks or credit cards are accepted in Cuba. Bring plenty of cash to convert, or Canadian credit cards, from which to draw cash advances to cover purchases in Havana.
About the photos:
1: View from a terrace at the Plaza Vieja.
2: Because of embargoes, vintage cars are still in widespread use.
3: San Francisco Square