by Chris Millikan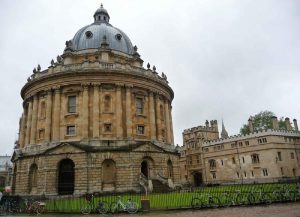 A day trip from London to Oxford suits avid walkers like us. Hopping an early train from Paddington Station, we arrive in this esteemed city of spires within 1-1/2 easy hours.
A university town since the 13th century, Oxford 'educates' us with historic sights, starting with its University. At first we're surprised that rather than one huge campus, there are 38 distinguished colleges scattered throughout this medieval city. We concentrate on locating the earliest.
Gargoyle spigots and dramatic grotesques embellish buildings sprouting towers and turrets. Quads enclose meticulous gardens featuring ages-old climbing wisteria and ivy-covered walls. University College, 1249 expelled Shelley for unruly behaviour; astronomer Edmund Halley studied at Queens, 1340; St Hilda's first enrolled women…in 1893! And Magdalen's riverside setting proves unusually beautiful…
The most aristocratic, Christ Church College's 12th century Norman cathedral serves all of Oxford. Though long connected to literature, movies have more recently been set here. During our magical afternoon, we find familiar settings from Harry Potter films: Tom quad, the 1000-year-old cloisters, 16th century staircase and high-ceilinged Great Hall that inspired JK Rowling's Hogwarts.
Over 50,000 Latin manuscripts, 11,000 rare items like a papyrus marriage contract from 600 BC, Samuel Johnson's Dictionary and over 5 million other books reside at the university's Bodleian library. Seated on archaic wooden benches in the original Divinity School, our guide recounts, "Oral examinations for students have long been held in this chamber, established in 1427. There's even evidence that some teaching began here at Oxford as early as 1096," she smiles, "Royalty, scholars and writers have studied in the reading rooms upstairs." Adding circular Radcliffe Camera in the 18th century, this library today encompasses forty buildings.   
Britain's first public museum, the Ashmolean built in 1683 first housed the remarkable collection of curiosities Elias Ashmole donated to Oxford University. Nowadays, five gallery floors exhibit wondrous collections including Egyptian sculptures, Michaelangelo  drawings, antiquities from Knossis and Pisarro's Portrait of Jeanne.
Oxford also exudes English history along its pretty cobbled streets. In the town centre, 13th century St. Martin's church tower rises 23-meters. Up its 99-narrow steps, overviews of Oxford's spires include the city's oldest structure dating to 1040. Strolling to Oxford Castle takes us past the birthplace of King Richard and brother John. Martyr's Memorial recalls Catholic Queen Mary's burning of three Anglican Bishops in 1535. And as devoted fans of Colin Dexter's Inspector Morse, we cross the street to his favourite bar in the posh Randolph Hotel.
A bus whisks us to the 17th century Trout Inn just outside Oxford, another of Morse's haunts. Sipping a Pimms on the sunny terrace, our waitress grins, "Way before Dexter's Morse novels, early writers like Tolkien and CS Lewis came here…"
Back downtown the Victorian-styled Town Hall encloses a Museum. One gallery reveals Oxford's development since its 810 founding. In another, virtual bike rides take us to sites already seen, a perfect wrap up to our day trip to Oxford.
We review our walk in English history on the restful train ride back to London.
Getting There:
About the Author:
Chris Millikan is a freelance writer/photographer living near Vancouver, BC. As a former teacher and elementary school principal, Chris now presents articles as an inviting 'curriculum' depicting the joys of travel. Many BC community newspapers, Open Road Driver Magazine and Senior Living Magazine regularly publish her articles. In-flight Magazines, the Vancouver Sun and Province have also featured her stories. As BC Association of Travel Writers Vice President, she supports colleagues' aspirations. And traveling off the beaten track with writer/photographer partner and hubby Rick, their published tales reflect great adventures. Their 2009 Kalama Award acknowledged an array of their stories reflecting the rich culture of Maui, Molokai and Lanai.