by Chris Millikan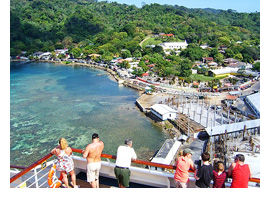 For seven glorious days, Carnival's Valor drops my hubby and me at a series of hot-hot-hot Caribbean ports for sunny adventures. Isla Roatan, a tropical island 30 miles off the northern Honduran mainland is no different. First glimpsed from our balcony, this emerald isle sparkles in the morning sun, and buzzes with construction of its new cruise ship terminal. Flamboyantly costumed and masked Garifuna performers welcome us ashore, dancing wildly and chanting to frenetic drum music from their African heritage. Like us, everyone stops for photos!
With a couple of adventurous friends in tow, we dodge waiting tour buses and craft market frenzy, eager to explore beyond this bustling pier. Quickly striking a deal with David, a 16-year-old guide, we taxi northward from Coxen Hole, the island's most populated town.
Driver Luis speaks only Spanish; David speaks excellent English, guiding visitors like us by day and attending school at night. When asked about the remarkable traditional dancers at the pier, David explains, "Long ago local natives and shipwrecked Africans intermarried, creating a new culture. Nowadays, about 200,000 Garifuna live in the Caribbean, mainly in Honduras, Belize and Guatemala."
As we roll along the scenic coastal road, he fills us in, "This main road goes from one end of our island to the other. It's in pretty good shape, but if you go off, it's so rough you need a four-wheel drive." Past crystal turquoise waters lapping pretty beaches, and laundry dancing in the breezes outside rainbow-colored houses, we arrive at Gumbalimba Park.
We enter through a pirate cave where life-sized pirates stand at attention; chests of treasure, old weapons, pictographs and maps conjure up those days in the mid-17th century. In the coolness of Coxen's Cave, we consider English buccaneer Henry Morgan, who established his base here. Then, pirate hordes of over 5,000 had sheltered their sloops and schooners around Roatan's protected Bay islands.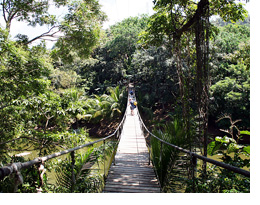 Emerging into warmth and sunlight, we stroll in the natural world along pathways looping through profuse botanical gardens. In a shady grove, we chat with zip-liners alighting on a platform after 'flying' from tree-top-to-tree-top across the lush canopies above. One breathless gal points upward, "We started on top of that mountain and after 10 traverses, we'll end up on that beach way down there—very cool!"
Brilliantly colored parrots and macaws enliven the air, squawking and shrieking raucously. Glancing upward, we spot flashes of scarlet, yellow and lime against cloudless blue skies as they flit, float and fly to gnarly perches below. Crossing a rope suspension bridge over a pretty lagoon filled with turtles, we descend along a leafy trail to where many fellow visitors pause for souvenir pictures with these friendly, feathered fellows sitting on shoulders, outstretched arms, and even heads.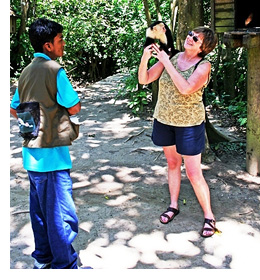 Over at the Monkey Sanctuary, white-faced monkeys impatiently reach for our shoulders like little children impatient to be cuddled. Light as feathers, bright little monkey-eyes look into our ears and up our noses, their slim fingers pick carefully through our hair. These furry little chaps stare curiously into our faces as if they recognize us…but we soon realize they're looking for tasty handouts as their larger monkey buddies swing effortlessly through the rainforest.
Stopping next at West Bay beach, we frolic and splash like a bunch of kids as we paddle and wade, cooling off in the in shallow azure waters with scores of others. Many locals with their big, fun-loving families happily swim, ride inflated toys, and play frisbee along this beautiful crescent of sand bustling with activity.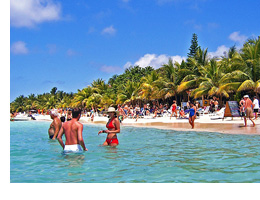 Before returning to the sugar sand beach, my hubby snorkels off to commune with multi-colored tropical fish and coral; the rest of us relax on towels in the shade of coconut palms and banana trees, sipping frosty fruit drinks, and bargaining with local ladies for handcrafted wooden bead bracelets and necklaces.
Browsing for more local crafts in open-air shops back in Coxen Hole, shopkeepers call out, "Where you from?" and "How you like our island?" Carved toys, wooden bowls, masks and canes fill many tables; hand-thrown pottery and carved slate items abound.
Heading onward to the ship, we sway, prance and hum to the compelling rhythms of the lively dockside band decked out in jaunty straw hats and embroidered shirts. Hammering away on their wooden marimba and singing harmoniously, they grin and nod at our shenanigans as we pass.
At dinner, our tablemates share events from the day. They tell us endearing tales of touching, stroking and even kissing dolphins at Anthony's Key and sunning themselves on popular Tabyana beach. Others snorkeled in crystal waters above some of the world's most unspoiled coral, "Second only to Australia's great barrier reef," my snorkelling hubby confides. Wendy and Al had explored Roatan's East End. "Still pretty rural and undeveloped," they report. "Over at Dixon Cove Harbor we boarded island-style boats and visited a shipwreck out on the reef, then sampled jellies and jams made from island plum, hibiscus, and other tropical flowers at a typical farm."
One couple visited iguanas at Sherman Arch's Farm, where 2700 of these prehistoric creatures roam freely. Hearing this, we recall our cruise director's quips at a briefing, "Iguana stew remains Roatan's traditional delicacy, except now they're protected, so if you go there, you can't eat 'em—but at feeding time, you can handle 'em!" Grinning, we proceed to munch our succulent seafood dinners…
It's no wonder Isla Roatan is emerging as the Caribbean's newest holiday hotspot. In fact, the New York Times recently named Roatan one of the"53 Places to visit in 2008." And although swanky resorts are rapidly developing along this island's pristine stretches of white powder sand, on our daytrip we encountered a simpler, more natural Roatan. I suspect its flavor will change, way too soon.
IF YOU GO:
For Full Information: www.carnivalcruise.ca
Call Toll Free: 1 800 CARNIVAL
E-mail: guestinfo@carnival.com
About the author:
Chris Millikan is a freelance writer who lives in North Delta, a suburb of Vancouver, B.C. on Canada's West Coast.
About the photos:
1: Dock arrival.
2: Rope suspension bridge.
3: The Author holding a monkey
4: West Bay Beach.