by Irene Butler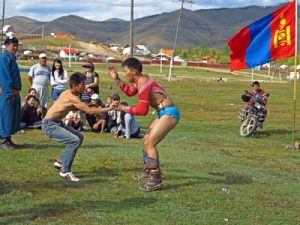 The range of day trips from Ulaanbaatar onto the Mongolian Steppes swirl in our minds. Our dilemma of fitting in all we want to see is perfectly resolved by combining our day of sightseeing with an overnight stay in a nomad ger (yurt).
Sanjay our skilled driver wends his way over the dusty pot-holed road. The hectic capital of Ulaanbaatar seems a world away as the steppes (grasslands) unfold around us. My breath catches as we approach the Chinggis Khaan Statue (known as Genghis Khan to us westerners) – this 13th century Golden Horde leader clutching a golden whip sits astride his powerful steed. "This statue fashioned from 250 tons of stainless steel rises 40 metres from on top of the 10 metre visitor's centre," says our guide Umbra as we stand mesmerized before this behemoth.
Next is Terelj National Park where the undulating steppes morph into granite cliffs. We wander in bright sunshine among giant boulders – one stack resembles a dinosaur-sized tortoise, dubbed Turtle Rock. Further along is the Ariyabal Meditation Temple. "Yikes, this will test our stamina," I say as we begin our hike up the snaking path with 150 Buddhist proverbs posted on signs along the way. At the top our prayers are unleashed into the ether with the spinning of prayer wheels that surround the temple – mine includes gratitude for surviving the climb. The inside of dynamic colour holds an aura of tranquility with worshippers focused on a gold Buddha at the far end.
The road becomes mere tire-tracks as we enter the nomad community. Thirty percent of Mongolia's 2.75 million citizens are nomadic or semi-nomadic, raising sheep, cattle and goats. We note how modernity has melded with tradition in the satellite dishes sprouting around the gers like metal flowers. Entering the main ger of our host family, a flat screen TV is on, and Okto the lady of the house finishes a cell-phone chat and welcomes us with open arms. Within minutes Okto is filling our bowls with a hearty mutton noodle soup from a wok that fits over the small woodstove/heater. Water must be hauled from a well a kilometre away.
We are ecstatic when Undra gleans a special event is going on down the road – a mini Nadaam! The next best thing to being at the National Nadaam Festival held in July each year that draws skilled participants from all over Mongolia to compete in horse racing games, archery and wrestling.
The crowd is cheering the horse race winners as we approach the field. We settle among the spectators on the grass as the wrestling begins. A dozen men compete in pairs, the winners pitted against winners, until only two remain – a wiry muscular opponent against another dressed in traditional wrestling garb of blue speedo-type bottoms and red top covering his arms and back. The latter wins and with arms stretched he soars like an eagle around the national flag to celebrate his victory.
Okto's husband Dasha arrives home in the early evening. Like Okto he speaks no English, but thru Undra he relays how as a Shaman his body is the vehicle through which to tap into the wisdom and healing powers from within his source of seventy-seven spirits.
Our guest ger is prepared with a fire in the stove and plenty of wool blankets. Readying for breakfast the chill morning air has us moving faster than a hawk swooping down on its prey. After our fill of sweet tea and biscuits the table is cleared for Shagai, played with dried sheep bones – a game that has been around since Chinggis. All too soon it is time to bid farewell to our gracious hosts and to once more cross the vast steppes that portray a sense of infinity.
About the Author:
Irene Butler is an award winning travel writer and author of "Trekking the Globe with Mostly Gentle Footsteps" now on Kindle. Her articles have appeared in national and international publications. She and her photographer husband Rick explore the world for six months of every year. www.globaltrekkers.ca
Photo by Rick Butler