by Rick Millikan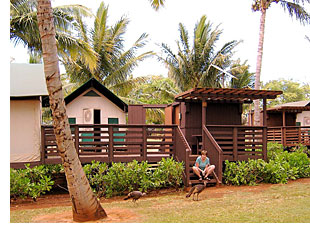 Cooing doves, gobbling wild turkeys and whistling exotic birds rouse us from cozy beachside tentalows. Seeking Hawaiian adventures, my partner and I takeoff in a racy red convertible along Molokai Ranch's rust-red roads and onto the highway to discover aloha at every juncture.
At Pala'au State Park, we hike up a short path through ironwood forest to find the large lusty phallic stone, where Molokai maidens prayed for fertility. A shorter path leads downward to spectacular views of Kalaupapa Peninsula. There, a few patients afflicted still with leprosy live in a trim village surrounded by the cobalt blue Pacific and world's highest sea-cliffs. These rugged cliffs provided Jurassic Park's opening scenes.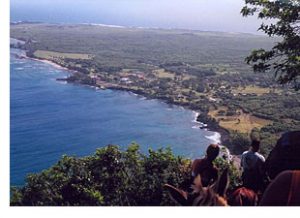 Soon after mounting mules we zigzag down the 3.8-mile trail into Kalaupapa for a closer look. Winding under forested canopies, descending 1700 feet and rounding 26 switchbacks, mules carry us steadily downward on stony steps and onto sunny ledges. While my mule Elvira chomps lacy fern, I feast on spectacular panoramas. Ultimately we pass a white bark kukui nut tree grove where black feral goats rummage as we continue along a wide black sand beach.
Corralling our mule-train then boarding a bus for an official peninsula tour, we stop initially at the village's only refreshment bar and St. Francis Church for enlightenment. Father Damien's memorial deepens our understandings of universal love and true aloha. Duly in line for sainthood, Father Damien's legendary devotion rallied the world to improve conditions for leprosy victims.
Rumbling eastward through tumultuous foliage, we come to Halawao, the original 1866 "leper colony." St. Philomena Church still towers beside Father Damien's lei-strewn gravesite in a cemetery of fellow benevolent souls. Further along, concrete pilings recall the inspection center, extensive government hospital and Baldwin Boys' Home constructed later.
Back at the corral, these sure-footed animals tote us forward and up the steep trail without one snort of complaint. Admiration becomes adoration. One muleskinner Mrs. wishes to exchange hubby for her steadfast steed. Like an Oakridge Boy, I serenade my spunky mule: "Elvira, Elvira —My heart's on fire, Elvira —Giddy Up Oom Poppa…"
Next morning we tootle along Molokai's sparsely settled coastline to its northeast tip. Looping upward on a narrowing highway into tropical splendor, we enter sacred Halawa Valley. Waiting just beyond a church's stony skeleton, tour leader Lawrence Aki introduces himself and his beloved homeland.
"The first Hawaiians settled here for its abundant water. Over a thousand taro patches supported our people."
Pointing to photos depicting its recent history, Aki continues. "The 1946 tsunami swept away croplands. Suffering further hardships, by 1956 most people abandoned the valley. Luckily my grandparents stayed, raising my brother and myself with Hawaiian language, customs and lore. After we left, marijuana growers came. Believing in Halawa's sanctity, my brother and I returned to reestablish order. Taro was replanted to sustain our physical and spiritual life as Hawaiians."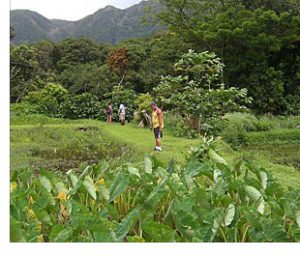 Bananas, guava trees and papayas line a gradually rising pathway. Aki proudly shows us sixteen taro patches, reestablished after clearing a forty-year growth of brush and trees. Upriver, his taro cooperative built a dam high enough to divert water to life-sustaining taro channels. We ford the knee-deep river below the reservoir and trek a muddy meandering trail into dense forest.
Pausing at each of three ancient temples, Aki chants. He tells us, "Ancestors built twelve of Molokai's eighteen hieaus in this valley. The devastated church at the trailhead was built upon one hieau."
Hiking the 4.2-mile trail to see double tiered Moaulu Falls seemed incidental to experiencing Aki's passion for native culture. After plunging into a refreshing pool shaded by leafy mango and ha'u trees, we picnic listening to Aki tell stories of old Hawaii.
Another venture involves sea-kayaks just outside Molokai's main town, Kaunakakai. Our licensed guide Claire prepares us for this jaunt. "Sunset kayaking is such a romantic opportunity. Often couples establish a sense of trust and cooperation before sharing the exquisite end to a day."
Like most fair damsels, my spouse sits forward, setting the pace and hoping I'll keep us on course. Without capsizing the kayak, I settle aft and negotiate routes with my forward shipmate. There's hardly a ripple, as waves break far offshore against Hawaii's longest barrier reef.
We mosey serenely along the shallow southern coast where an estimated 60 ancient fishponds once thrived. Then, this sophisticated aquaculture fed only royalty. Bathed in golden sunlight, we share blissful paddling.
Edging near a reconstructed fishpond, we examine extensive walls made of lava boulders. Two openings allow seawater to ebb and flow. Holding fast to mangrove roots at an entrance, we await the glorious climax to another day in paradise. After Claire reports the first fishpond harvest occurs this year, she grins, confiding, "My husband fishes at this very spot…with great success!"
As the landscape glows, Claire softly philosophizes about Molokai's laidback lifestyles and caring Hawaiian families. The sun paints a Gauguin sky of swirling pinks, oranges, reds and purples. Returning ashore, Claire presents us drink vouchers to toast "Love!" at a nearby waterside restaurant.
Next morning we head off toward a secluded cove, packing a lunch and snorkel gear. Quail scamper along the coastal pathway. Bridging the ranch fence, we wade through waist-high grass. Axis deer leap from the underbrush. Feeling lost, another cheery hiker encourages us onward.
At peaceful Dixie Maru Beach, we settle onto its white sand reflecting on Molokai's aloha-filled adventures.
About the author:
Rick Millikan and Chris Millikan, are a Canadian travel writer/photographer team who live in North Delta, a suburb of Vancouver, on Canada's West Coast


45-Minute Scenic West Maui and Molokai Helicopter Tour
If you go:
Start your holiday through Molokai Visitors Association at www.molokai-hawaii.com or (800) 800-6367.
Investigate the Molokai Ranch "Tentalow" Beach Village and Lodge facilities through www.molokairanch.com
Arrange your own Molokai Mule Ride into Kalaupapa Historic National Park at www.muleride.com
Peruse and book land & ocean activities at Molokai Outdoors www.molokai-outdoors.com
Reserve your Halawa Valley Cultural Hike through www.molokaifishanddive.com
Find out about Molokai Ferry's daily round trip service to Maui at www.molokaiferry.com.
Photos by Chris Millikan:
1: The author's wife is visited by a group of wild turkeys.
2: An overview of the Kalaupapa Peninsula from our mule trail.
3: One of the many re-planted taro patches.