by Chris Millikan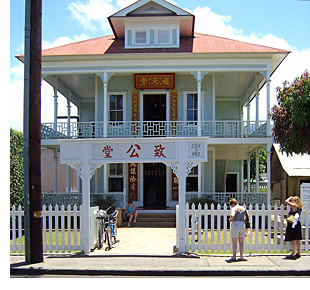 West Maui has attracted holidaymakers for centuries. Even Hawaii's legendary Kamehamehas recognized a good thing when they saw it. Staging extravagant luaus, they surfed and played on Kaanapali's golden beaches for days. But, abandoning that laidback beach-life for a day, my husband and I joined other history buffs on a Historical Trail and Legends tour, alternately shuttling and walking into an alluring past. Meeting us under a thatched hale fronting Royal Lahaina Resort, two guides helped us visualize Ka'anapali's bygone days. "Abundant mango orchards once flourished here and in immense gardens, villagers cultivated sweet potatoes and taro for Maui's kings," Keli'i grinned, "favoured staples to this day."
Our shuttlebus then stopped beside the Eldorado's golf course where rusty-brown pohaku stones rested behind a hedge. Miliani explained, "Uncovered during resort development, these artifacts reflect familiar legends: demigod Maui turned his la-a-a-z-y friend into that large stone, for example, to sleep permanently…a tough lesson for mocking hard work!"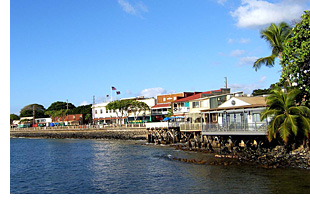 Pointing northward to Kahekili Beach Park, she continued, "Warriors trained there…and Hawaiians launched their koa-wood canoes to visit Lanai." Also nicknamed Airport Beach, old airstrip fragments remain off in the bushes. "The terminal's Windsock Bar was well-known by travelers between 1960 and 1987 for great Bloody Marys," Keli'i winked.
At Black Rock, popular with today's snorkelers, we pictured ancient temples perching on top. "Still sacred in modern Hawaii, our souls leap into eternity from up there," pointed Miliani. "And divers jump at sunset, just like Maui's last great chief, known for cliff-diving."
During the plantation era, a prosperous racetrack had stretched down the spectacular sandy oceanfront. And on the Black Rock's other side, a mile-long pier off-loaded sugarcane and cattle to waiting ships.
Lush fairways along Ka'anapali's Parkway covered an ancient battleground where royal half-brothers waged fierce war against each other to establish the island's ruler.
"During battle that stream flowed with the blood of thousands of warriors, colouring foreshore waters red at Hanakao'o Point," said Keli'i. And Miliani chimed in, "One legend says that to avoid sacrifice, Hina hid her son Maui up in the guardian owl's secret cave at the stream's source."
Lahaina shimmered in the distance, our afternoon stop. Conquering Maui and marrying into its royal family, Kamehameha the Great designated this town first capital of a united Hawaii.
Hopping into our rental, we headed for Banyan Tree Park. Locals told us the magnificent tree planted in 1873 now shades almost an acre. Watching carvers finish canoes for the annual Festival of Canoes, I mused, "There's always something cool going on here…festivals… markets… music…celebrations…"
Ducking through the rear door of the old Courthouse prominent on Wharf Street since1859, we wandered through the Heritage Museum and Art Gallery before picking up free historical guides at the Visitor's Center there.
Toward the end of the harbour, we located the hauola stone, a sacred place for royal birthing and the floor of Kamehameha III's brick palace, a royal residence until the 1850's. He'd also commissioned the lighthouse nearby, initially a wooden tower with whale-oil lamps kept alight by Hawaiians for $20 a year.
The Pacific Fleet's homeport from 1820 to 1860, hundreds of whaling ships anchored here, gritty grogshops lined streets…and Herman Melville rambled around town scribbling notes for Moby Dick. The Pioneer Inn dating to 1901 still posts strict turn-of-the-century regulations in its rooms.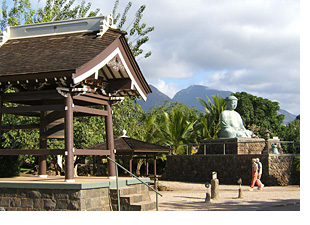 Back at Banyan Park's southwest corner, fort remnants from 1831 endure, originally built after raucous sailors lobbed cannonballs into town, disputing with missionaries over Hawaiian women visiting their ships. Demolished twenty years later, hand-cut coral blocks from its 20-foot-high walls built the jail standing at Prison and Waine'e Streets.
After peeking into the tiny spartan cells built for drunks and deserters, we found the first Christian graveyard; Waine'e Cemetery's royal burial sites have been sacred to Hawaiians since 1823.
Nearby, Seamen's Cemetery interred Melville's cousin and several shipmates, among others. Further along, chiefs and commoners, captains and sailors, missionary's children and elders lay in Waiola Churchyard.
Between Waine'e and Front Streets, Hawaiian Kings and powerful chiefs had lived in regal compounds on a tiny island in a freshwater pond. After removing sacred entombed remains, coral rubble filled in this 14-acre pond to install a ballpark in 1918. Friends of Moku'ula now work to restore former glory.
Nicknamed Venice of the Pacific, canoe channels once connected countless taro terraces in what is now Lahaina's downtown.
Hawaii's last monarch, Queen Liliokalani grew up in a grass house near Canal Street; today, the Episcopal Church there features a rare koa altar and beautiful Hawaiian Madonna. In Kamehameha Iki Park next-door, Kamehameha IIIs two-storied oceanfront palace stands unfinished…he'd preferred pili-grass beach-huts cooled by trade winds.
Spreading kukui-nut trees shade Lahaina's oldest buildings on Front Street. Docents at Baldwin House related tales about its influential residents. "This dynamic mission and medical center was built of coral, stone and wood in 1834; most of these 19th-century furnishings were payment for services.
Doctor Dwight Baldwin had saved thousands of lives on Maui with the early use of smallpox vaccinations and vigilant quarantines." When asked about their wealth, she added, "Their youngest son built irrigation flumes critical to the sugarcane industry's success, creating a fortune."
Down the block, two-storied Wo Hing Temple served Chinese sugarcane workers; now rare artifacts and altars showcase their island history. Surrounded by gigantic rusted woks and kitchen implements in the adjacent community cookhouse, we absorbed the romance of old Hawaii captured by Thomas Edison in his earliest movies.
Our exploration ended on Jodo Mission's peaceful grounds. A five-tiered pagoda soars into cloudless blue skies and the largest Buddha outside Japan sits serenely against sweeping views of West Maui's pastoral Mountains…ideal for contemplation of the fascinating history uncovered that day.
About the author:
Traveling Tales this week welcomes Canadian freelanace travel writer Chris Millikan who lives near Vancouver, on Canada;s West Coast.
Photos by Chris Millikan
1: Lahaina Wo Hing Temple.
2: Overview of old Lahaina.
3: Lahaina Jodo Mission.