by David Elliott
I'm standing on a narrow, cobbled street in London, looking up at a blackened corpse hanging in a gibbet.
This guy must have done something pretty diabolical, like steal a loaf of bread, or perhaps he even insulted the Bishop. It was probably the latter, because the Bishop's palace is just a few hundred yards down the street, not far from his brothels.
After defeating Harold at Hastings, William the Conqueror doled out estates and titles to his friends and relatives.
Equal Opportunities, corruption and nepotism were notions belonging to a future world, and William didn't think twice about handing confiscated estates to his cronies, turning reckless adventurers into earls and dukes overnight.
It is said that behind every great fortune lies a crime, and the Anglo-Saxon aristocracy (themselves invaders of Celtic lands) must certainly have felt this when their estates in Southwark went to William's half-brother, Bishop Odo of Bayeux.
After a few decades, some of these devolved on Bishop Gifford of Winchester, including the brothels, in 1107.
I'm on the south bank of the river Thames, between Blackfriars Bridge and Tower Bridge. Now a pleasant and clean riverside walk, until fairly modern times this place was a sink of iniquity, a cesspool of low-life, and a magnet for the worst elements in society.
And because of its colourful history, there is no better introduction to London: this particular day out will take you right to the heart of the city. Geoffrey Chaucer and his fellow pilgrims set off from a pub around here (the long lost Tabard Inn) en route to Canterbury over six hundred years ago, and there's plenty of walking (and drinking) for us too as we set off on our own secular pilgrimage.
Invaders Ancient and Modern
Southwark started life as a Roman camp at the time of Claudius' invasion of Britain in AD 43, with the stretch now known as Bankside being occupied by brothels to service the troops.
With such an illustrious origin, the area promised one dynamite future, and it certainly rose to the challenge: taverns, bars, gambling joints, cockpits and bear- and bull-baiting rings were a feature here for centuries, always attracting the lowest elements in society, such as robbers, murderers and actors.
To explore this fascinating area – which you can easily cover in a leisurely day's stroll – get the tube to London Bridge and walk down the steps past Southwark Cathedral.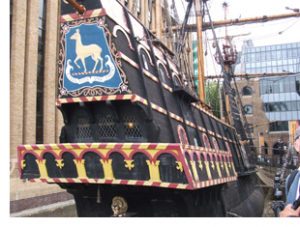 Within a couple of minutes you'll reach a replica of Francis Drake's 16th century warship the Golden Hinde, on which he sailed around the world and wreaked havoc on Spanish shipping, before returning to England laden with treasures for Elizabeth I.
He actually died of fever in the South Seas, but there is a legend that should England ever face mortal danger again, Sir Francis Drake will return, sailing up the Thames to the rescue, his drum beating as it did on the night he died. Not surprisingly, Drake's Drum was reported frequently when the Nazis replaced the Spaniards and the Luftwaffe was the new Armada: some dictators just never learn.
Two Samuels – Johnson and Pepys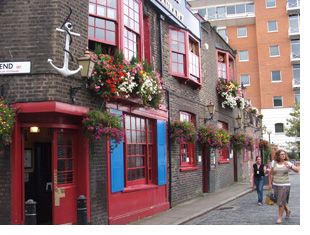 Next, head along Clink Street to the historic Anchor pub for coffee or something a bit stronger. There has been a tavern on this site for 1,000 years. This magnificent multi-level building is a riot of creaking floorboards, oak tables and leaded casements, and is everything you'd expect of Olde England.
It is where the diarist Samuel Pepys watched the progress of the Great Fire of London in 1666, and where Samuel Johnson met his friends Henry and Hester Thrale. The Thrales owned the nearby Anchor brewery (now demolished), where Johnson had a room in which to write. Dr Johnson drank regularly at the Anchor, and one of the bars is named after him, with a copy of his famous Dictionary on display there.
Shakespeare, Dog-fights and Knives in the Dark
The next stop is the jewel in the crown of modern Bankside: Shakespeare's Globe Theatre.
The reconstructed theatre is the brainchild of American actor and film-maker Sam Wanamaker, who sadly didn't live to see its completion. It was reconstructed using original techniques and materials, and has been an enormous success: its summer season of four productions, some in period dress, often sells out well in advance.
The rough and immoral Bankside was the natural site for theatres in Elizabethan times, as the church considered them to be the most sinful places in the whole of Creation.
They were even considered in some quarters to be the cause of plagues, by a curious but compelling ecclesiastical logic. According to Thomas White, preaching in St Paul's in 1577: 'The cause of plagues is sin…the cause of sin is plays; therefore the cause of plagues is plays'. I rest my case.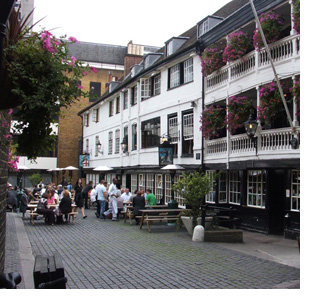 The contemporary theatre-going experience was a world away from today's luvvies and wine parties. The playwright Christopher Marlowe was involved in a street fight with a man who was killed, and he himself was murdered in a tavern brawl in nearby Deptford. One Bankside theatre-goer was stabbed to death by an usher after questioning the price of admission.
The Globe made its final curtain call with a bang: it burned down in 1613 when real cannon were fired to mark the entry of the king during a performance of Shakespeare's new play, Henry VIII.
A new theatre called the Hope was built over a former bear-baiting arena nearby. It had a removable stage so that bear-baiting could continue between plays, but two years later it reverted to a bear pit, and its site is now marked by a small street called Bear Gardens.
Bankside's dog-fights and bear-baiting were eventually banned by the Puritans – not because they brought suffering to the animals, but because they brought pleasure to the spectators.
About the author:
This week Traveling Tales welcomes freelance travel writer David Elliott who lives in England.
Photos by David Elliott:
1: The replica of Drake's "Golden Hinde."
2: The Anchor Pub.
3: The George Inn is typical of the architecture of "Olde England."
If you go:
Anchor Inn
34 Park Street, Southwark, London SE1 9EF
020 7407 1577
Mon-Sat: 11:00-23:00
Sun: 12:00-22:30
Pickfords wharf
Clink Street, SE1 9DG
020 7403 4243
11am – 11pm (Mon-Sat) 12pm – 10.30pm (Sun)
The Clink Prison Museum
1 Clink Street, Bankside, London SE1 9DG
020 7403 0900
www.clink.co.uk
Open daily generally 10.00 to 18.00hrs, but times do vary, so please call to check.
Globe Theatre
The Box Office is located in the main foyer at Shakespeare's Globe.
Opening Hours:
Monday to Saturday, 10am-6pm (8pm on performance days)
Sundays from May 5 onwards, 10am-5pm (7pm on performance days)
Telephone or Fax
For reservations and credit card bookings contact the Box Office, Monday to Saturday 10am-6pm, Sunday 10am-5pm
Telephone: 020 7401 9919
Fax: 020 7902 1475