by Chris Millikan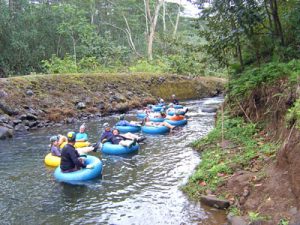 A day trip from our Wailua resort in central Kauai involves fluming its main irrigation ditch and tunnels. Joining this expedition gives my husband Rick and me a new perspective on sightseeing on the fourth largest and oldest island in the Hawaiian chain.
As our all-terrain truck rumbles and jostles us through rugged back country of the Old Lihue Sugar Plantation, guide Brandon entertains us with local myths and history. He points out the abandoned shack of an early irrigation specialist and notes, "His early expertise in watering cane fields earned this plantation worker big bucks!"
When the safety tips and tubing techniques talk wraps up at the launch site, everyone eagerly straps on helmets and plops into gigantic blue and yellow tubes. At first we all   comically bob, bump and bunch together… until Brandon releases the rope restraint! The gentle current then propels us forward in a fanciful parade.
Twirling merrily along, laughing, bumping off rocky channel banks and bouncing off one another, we approach the first of four tunnels. Helmet lights switched on, we aqua-nuts float inside, beams bounce crazily from gouged walls and ceilings of the dark cavern. In the third tunnel, Brandon alerts us, "Ahoy! Watch out for that sharp dogleg ahead!"
Drifting dreamily through the final tunnel with lights snapped off, I feel totally disoriented in the pitch-black quietude…when suddenly we emerge under sunny blue skies! And beneath koa trees, we float onward through the canal, shallow waters gently carrying us to the landing site.
Our exhilarating three-kilometer ride aboard these bouncy 'vehicles' is truly memorable. And beyond this unique thrill, Hanamaulu ditch provides insight into an extraordinary engineering feat, a fitting tribute to those surveyors and pickax crews of the last century.
Walking up a dirt road, we arrive at a woodsy area overlooking a tranquil pool and little waterfall. Relaxing at rustic tables there, we munch our picnic lunches before heading back to our beach side abode.
If you go:
About the author:
Chris Millikan is a freelance writer/photographer living near Vancouver, BC.  As a former teacher and elementary school principal, Chris now presents articles as an inviting 'curriculum' depicting the joys of travel. Many BC community newspapers, Open Road Driver Magazine and Senior Living Magazine regularly publish her articles; In-flight Magazines, the Vancouver Sun and Province have also featured her stories. As BC Association of Travel Writers Vice President, she supports colleagues' aspirations.  And traveling off the beaten track with writer/photographer partner and hubby Rick, their published tales reflect great adventures. Their 2009 Kalama Award acknowledged an array of their stories reflecting the rich culture of Maui, Molokai and Lanai.

Watch a cool tubing video from Kauai Backcountry Adventures