By Margaret Deefholts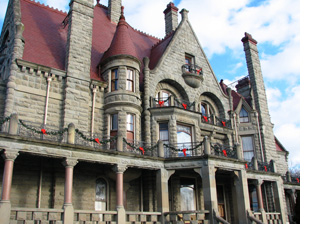 I am standing at the entrance to a splendid castle, its fireplace decorated with boughs of mistletoe and ivy, its hallway aglow with lights, and its grand staircase banisters wreathed in garlands of holly. The rich aroma of stuffed roast goose in a sage and onion gravy draws me to the dining room where distinguished guests exchange animated conversation across a table set in elegant style. The women wear silk gowns, their diamond necklaces winking in the light of candelabra centrepieces; the men sport mutton-chop moustaches and side-burns, and sip mulled wine from crystal goblets. A child's laughter echoes faintly from one of the upstairs rooms. The ghosts of Christmases past still linger in the rooms of Craigdarroch Castle in Victoria, and although these guests at their Christmas banquet are figments of my imagination, the castle still celebrates this most joyous of all seasons by donning a mantle of dazzling Yuletide finery.
Today, in the drawing room on the entrance floor, a small girl, her eyes round with wonder, surveys a Christmas tree surrounded by antique toys, its branches arrayed in red ribbons, bows and silver ornaments. In Joan Dunsmuir's first floor sitting room, the mantelpiece adorned with a satin hammock filled with pine cones, boughs of holly and silk tartan ribbons, draws an admiring 'aaah' from a group of Japanese visitors. Further along the corridor, a boy who is a dead ringer for Harry Potter—glasses and all—points out the curious looking brass speaking tube which once functioned as an intercom between this floor and the kitchens below. His younger sister waves an "I Spy" leaflet impatiently, wanting to continue her hunt of identifying treasures throughout the castle.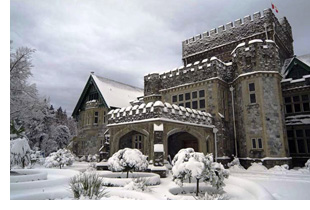 Craigdarroch Castle was completed in 1890 by coal baron Robert Dunsmuir, who spared no expense in furnishing his stately mansion with exquisite stained glass windows, oil paintings, and lavish Victorian furnishings. The family history, depicted in photos, memorabilia and information panels in the Exhibit Room on the second floor traces the lives of Robert and Joan Dunsmuir, their ten children and some of their grandchildren. The Dunsmuir progeny for the most part, however, seem to have been lonely, neurotic individuals, cursed rather than blessed by their inheritance.
Hatley Castle, built by James Dunsmuir—the sole surviving son of Robert and Joan—is also in festive Christmas attire, and the entrance hall is cheery with twin Christmas trees flanking a fireplace. Festoons of evergreen boughs intertwined with poinsettias and twinkling lights lie across the mantelpiece.
James Douglas (not a ghostly revenant of the first Governor of British Columbia but a flesh-and-blood young man!) talks about Hatley Castle's history and the Dunsmuir family's quirks and foibles as he ushers me through the tastefully appointed rooms, each with its own distinctive wood panelling, and specially designed furnishings.
Although Hatley Castle's Christmas decorations aren't as elaborate as those at Craigdarroch, I am riveted by the wealth of anecdotal history surrounding the lives and times of James Dunsmuir's family, much of it filled with tragedy—particularly the loss of an adored second son (and namesake) on the Lusitania during World War I. James's daughters were "a wild lot…with energy and money to burn" according to a 2006 article in the Times Colonist newspaper.
Hatley Castle is haunted by ghosts of its past, and although stories of eerie occurrences abound, there are no easy explanations. Would one of these unhappy spirits be the sad alcoholic Dola, (James' youngest daughter) who had a brief, unsuccessful marriage, and was then involved in a lifelong intimate relationship with actress Tallulah Bankhead? Who knows!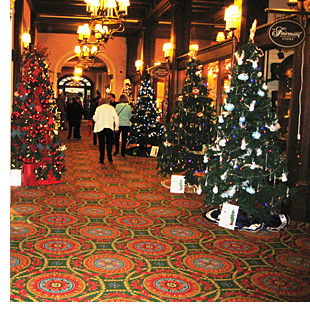 Leaving Victoria's past and returning to its present, I stroll through the corridors of the Empress Hotel to admire sixty or more exquisitely decorated Christmas trees which are part of their annual Festival of Trees celebration. Sponsored by local businesses and organizations, to raise funds for the B.C. Children's Hospital, it is a fitting commemoration of the Child born in Bethlehem and His ageless message of love and compassion.
After a gourmet dinner at the Inn at Laurel Point's Aura Restaurant a group of us are whisked away by stretch limousine into an enchanted fairyland—the Butchart Gardens in all their shimmering Christmas splendour. I am reduced to childlike awe at silver spangled trees, willow-the-wisp lights flickering through the bushes, avenues of lighted archways, ginger-bread type houses, and dancing "snow flakes" powdering the trees.
Each year, visitors have eagerly anticipated the newest addition to the Garden's theme of the Twelve Days of Christmas, and we are fortunate enough to be here in the twelfth year when the carol's complete set of 'gifts' are on display along the illuminated pathways. First up is the partridge in a pear tree, followed shortly after by two turtle doves nestling together, and so on… Particularly charming, however, are three French hens cavorting under a lighted Eiffel Tower, five golden rings floating on a lake and eight graceful maids a-milking. Turning a corner, we pause to watch a carousel with nursery rhyme and story book heroines twirling to the strains of music from the Nutcracker Suite, while a family with three children gleefully identify their favourite Mother Goose characters. At the end of our tour through fantasy-land, we are treated to a hearty rendition of Christmas favourites by a four-piece brass band.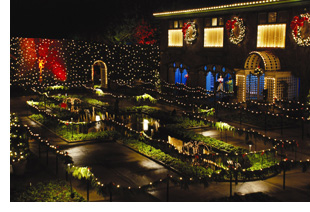 But the evening isn't over yet. Before boarding our limo under the gaze of twelve drummers marching overhead, our hosts from the Inn at Laurel Point offer us a choice of hot chocolate or eggnog beverages. I lift a mug of steaming hot, satiny smooth eggnog, laced with an out-of-this-world combination of rum and spices, and drink a toast to Victoria's ghosts of Christmases past, and to its magical spirit of Christmas present.
If you go: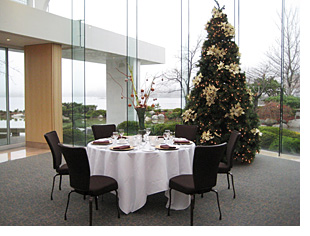 The Inn at Laurel Point is the epitome of luxury and attentive personalized service.
The rooms in the newly renovated Erickson Wing offer spectacular views from private balconies overlooking the harbour and a tranquil Japanese garden. The room décor is not only aesthetically pleasing with contemporary accents, natural colours, and plenty of natural light, but offers guests practical amenities such as an abundance of drawers and surfaces for personal belongings, desk space for laptop use, and excellent spot lighting around the room. Guests sink into cloud-soft beds and, as befits a world class hotel, they are pampered with body products by Molton Brown of London and Aveda.
The Inn's elegant dining room, the Aura, features the culinary wizardry of Executive Chef, Brad Horen, nationally acclaimed as Canadian Chef of the Year by the Canadian Culinary Federation in 2007 and gold medalist at the 2008 Culinary Olympics in Efurt, Germany. Brad is modest and unassuming despite his towering achievements at both national and international levels. Wine pairings with each course, feature B.C. winery products and are expertly selected by Stuart Bruce, Restaurant Manager.
Few hotels can equal the quality of service offered by the Inn at Laurel Point, whether it be pampering guests with breakfast in bed, or their nightly turn-down room service that freshens the bathroom and plumps up pillows for bedtime. Visitors also enjoy complimentary wireless high speed Internet connections and access to movies on demand.
It doesn't come much better!
For more information go to www.laurelpoint.com
Craigdarroch Castle: www.craigdarrochcastle.com/ offers their Christmas programme schedule at www.craigdarrochcastle.com/pdf/web_calendar_08_.pdf
Hatley Castle is located on the grounds of Royal Roads Military College and Royal Roads University. Detailed information (including a map and entrance rates) as well as their Christmas programmes may be accessed via their comprehensive website at www.hatleycastle.ca
Festival of Trees at the Fairmont Empress:
blog.vancouverisland.travel/2007/11/15/festival-of-trees-tour-tea/
www.tourismvictoria.com/Content/EN/436.asp?id=3216
Butchart Gardens:
The Magic of Christmas: www.butchartgardens.com/christmas
Home page: www.butchartgardens.com
About the Author:
This week Traveling Tales welcomes Margaret Deefholts, an author and freelance travel writer who lives in Surrey, a suburb of Vancouver B.C. Learn more about Margaret at her website www.margaretdeefholts-journeys.com
About The Photos:
1. Craigdarroch Castle: Margaret Deefholts
2. Hatley Castle: Winter Wonderland – Photo: Courtesy Hatley Castle
3. Festival of Trees, The Empress Hotel: Margaret Deefholts
4. Butchart Gardens: Photo Courtesy of "The Butchart Gardens Ltd., Victoria, B.C."
5. Alcove in glass fronted banquet hall at the Inn at Laurel Point: Margaret Deefholts