by Chris Millikan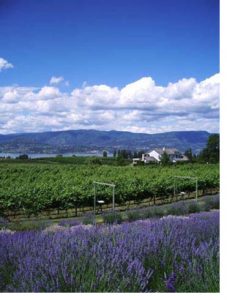 Electric bikes kick off our whirlwind Okanagan escapade in style. On the first glorious day, my hubby and I mount these steely chargers and blissfully explore along Kelowna's scenic bench lands.
Up the street from our lakeside resort we turn onto meandering Mission Creek Greenway, joining joggers, dog-walkers and fellow cyclists along a peaceful wooded creek. Although these electric bikes can get up to 32 kilometers an hour on the flat, we start out pedaling exactly like other cyclists until eventually emerging onto paved roadways.
Snaking upward past luxuriant hillside vineyards, the E-bikes render grinding climbs painless. With a flick-of-my thumb, one of three power levels magically engages; wheeling smoothly into the lead with pert waves and triumphant "Waaa-hooos" becomes highly irresistible to me; keeping up the pace without strain simply sublime!
Ascending to Okanagan Lavender Farm, delicately scented breezes announce our first stop. Exercising the U-pick option there, we gather up handfuls of purple, pink and creamy-white stalks from a fragrant field overlooking lush vineyards.
Owner Andrea explains, "Our farm grows 60 lavender varieties over 3-and-a-half acres."
And strolling over to her country store brimming with handcrafted products, she impishly whispers, "Roman men thought lavender head-wreaths made them smarter…" In case they'd been onto something, we poke the aromatic stems into our helmets!
Chilled lavender lemonade fuels us as we 'fly' joyfully downward, landing at one of BC's oldest continuously producing vineyards.
Slightly off the beaten track, this fifty-acre winery originally named Pioneer Vineyards…and Tantalus since 2004…was planted with grapes in 1927.
"This winery targets wine lovers with small-batch specialty wines, handmade from 30-year-old vines," Jane tells us. "And world-renowned Tlingit artist Dempsey Bob's mask adorns our new labels…signifying elegance, like our wines.
" Visualizing numb but nimble fingers picking frozen grapes, we savor premium Riesling Ice Wine 2005, the first under new ownership. Motoring easily back up the corkscrew driveway, we charge swiftly downhill to one of Canada's most visited wineries, generating reserve energy to replenish the bike's batteries as we go…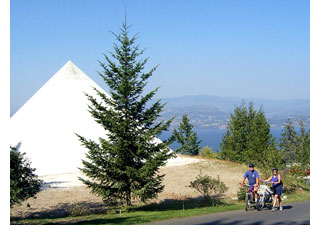 Largest to be certified organic, Summerhill Pyramid Winery specializes in sparkling wines aged in a unique four-storey concrete Egyptian-style pyramid. Touring it, Casey reveals, "Facing true north, this fuse frame structure has no metals or electricity…but its spiritual energy positively affects liquids, proven in 14-year experiments and three years of taste-testing. Now, all our wines are pyramid-aged in this sacred geometry."
Amid million dollar patio views, we sip fruity, food-friendly wines while munching gourmet pizzas topped with some of 66 heirloom tomato varieties from flourishing organic gardens below…and luscious local goat cheeses from Carmelis Alpine Goat Cheese Farm, the afternoon's final and longest uphill chug.
After visiting with lady-goats gathered in milking barns there, we enter the visitor center displaying 20 handmade cheeses.
Although tempted by farm tours demonstrating traditional artisan cheese-making methods, we freewheel back downtown with several scrumptious samples for nibbling later…perhaps with robust local wines…on our balcony overlooking Okanagan Lake…while sunset reds, pinks and purples signal the first day's end.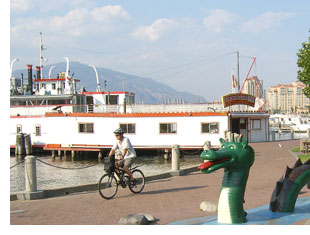 For a change of pace the next morning we join others sauntering…and cycling…along the restful lakeside walkway in Waterfront Park.
After strolling we past the pretty marina, feathery willows, trickling waterfalls in floral gardens, golden beaches and captivating artworks, an arching bridge leads us into a transformed six-block area, Kelowna's award-winning cultural district.
Once the center of the Okanagan's fruit packing industry, heritage warehouses now offer thirty intimate galleries, museums, theaters and artist studios to investigate.
A park-like common there hosts seasonal festivals and concerts; the vine-shaded Artwalk connects pedestrians with a revitalized downtown. One of eleven permanent sculptures, the monumental Fruit Stand stretches along this walkway, recapturing history with gigantic stylized peaches, pears and mosaics of early packing labels.
At the busy bus loop, the Running Man sculpture comments whimsically on our hectic lives; the Bennett Clock with merrily splashing fountain honors BC's longtime Premier. Tucked behind, we wander the soothing Kasugai Gardens pathways, established in recognition of friendship with a Japanese sister city.
Cycling the Myra Canyon portion of the Kettle Valley Trail launches our last day.
The Kettle Valley Railway crisscrossed southwestern BC between 1916 and 1964, its eighteen abandoned trestles later providing spectacular hiking and cycling routes through rugged splendor. Glad that more destroyed trestles will be rebuilt in 2007 we tackle six newly reconstructed trestles amid stark, still-charred pines from the devastating wildfires of 2003.
Driving onward, we investigate a 150-acre orchard, operating since 1904. The Kelowna Land & Orchard Company provides regularly scheduled orchard tours, but we're too late for this informative wagon ride. Instead, we explore the farm store overflowing with golden honey, jams, jellies, crisp red apples, succulent purple table grapes and fresh garden vegetables.
Inside, at the Raven Ridge Cidery taste-testing unique specialties made from premium apples harvested during the first big freeze, another keen sampler leans over with a toast, "Try this ice cider once…you'll be back!" Our little dessert glasses clink affirmation.
Slim bottles of Granny Smith Ice Cider stowed, our final stop beckons ten-minutes away.
Carved from a lovely old apple orchard and tended organically, 4-acre Elysium Gardens has provided a tranquil place for locals and visitors since 1999.
Throughout this paradise for birds, butterflies and garden buffs like us, owner Jacquie points out native plants, hardy perennials, golden ornamental grasses, English roses and multitudes of variegated hostas.
She observes, "Some areas reflect the formality typical of 'proper gardens'…others feel more natural, free flowing…" Backstopped by unobstructed mountain views, Lavender Lane leads to the threshold of a magnificent gazebo, a popular wedding spot.
In visiting a revitalized historic center, thriving family farms, famed wineries and beautiful gardens over three fun-filled days, we'd only just begun to discover Kelowna's many sides.
About the author:
This week Traveling Tales welcomes freelance travel writer Chris Millikan who lives in Delta, a suburb of Vancouver BC.
About the photos:
1: A productive lavender farm stretches above a Kelowna vineyard. Rick Millikan
photo.
2: A local vintner "empowers" his wine in this pyramid. Rick Millikan photo.
3: A multi-use pathway runs along Kelowna's Waterfront Park. Rick Millikan
photo.
If you go:
Contact Kelowna Tourism www.tourismkelowna.com for all travel needs.
Manteo refresh@manteo.com features lakefront amenities and superb accommodation in spacious guestrooms, suites and villas.
Enjoy an al fresco gourmet lunch, unique tour and tasting at Summerhill Pyramid Winery www.summerhill.bc.ca
Elysium Gardens www.elysiumgardennursery.com offers peaceful strolls and panoramic views in a former apple orchard.