by R. Wayne Hoskins
It all started when my wife approached me and asked how my knee was feeling. This question could be the prelude to the next step in her plan to put me to work on some project in the garden or the basement. Reluctantly, I said it felt okay as long as I didn't have to run down the street for any reason. Well her plans didn't include house chores, but they did begin our dialogue on our next big trip…..trekking in Nepal, specifically the climb to Everest base camp. My knees are good to go up something but definitely hate the return down-slope, so I replied with a negative grunt and hoped the subject would change to a holiday in the South of France complete with good food and fine wine. Not so! If I couldn't handle the exercise, she would go alone and tell me all about it when she returned to Canada.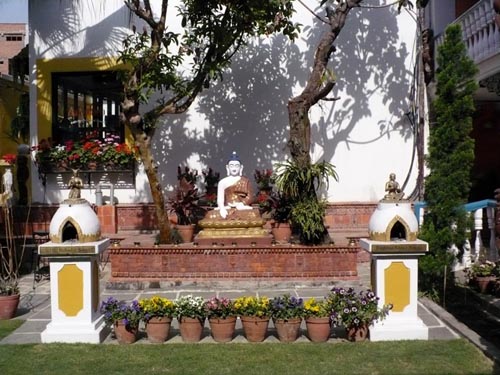 Eighteen months later, after numerous Grouse Grinds, five days a week at the gym, and my wife's stair climbing at the condo with weighted backpack and hiking boots, we were ready for our adventure in the land of small, brown-complexioned people who can walk for days with their entire household on their backs.
Nepal is a small country, 130 miles north to south, and 500 miles east to west. It is bordered on the south by India and on the north by Tibet. Its most amazing feature is the rise in elevation from the south (300 feet) to the north (29,000 feet); and this is what attracts tourists to this country half way around the world. The Himalaya range of mountains run the entire length of Nepal and include 10 of the world's 14 tallest mountains.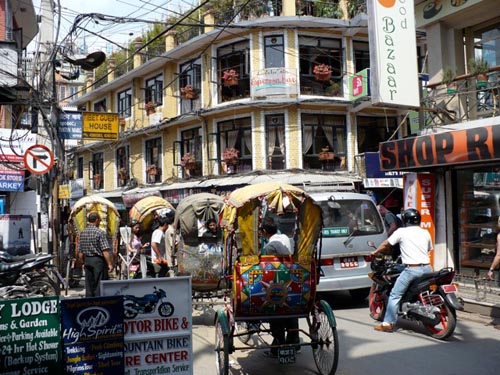 Two of the most popular treks in Nepal include the route from Lukla to Everest base camp (12 days return) and the Annapurna circuit (16-21 days). Both of these trips may include guides, porters, yak transport for supplies and the possibility of emergency evacuation for health reasons. The trip is exhilarating and dangerous. The elevation change going up can start to have serious effects at 10,000 feet. The speed of ascent and individual susceptibility to Acute Mountain Sickness are the major reasons trekkers can't complete this high altitude hike. Acclimatization to altitude (low oxygen content) before and during your climb is essential to a successful holiday in Nepal.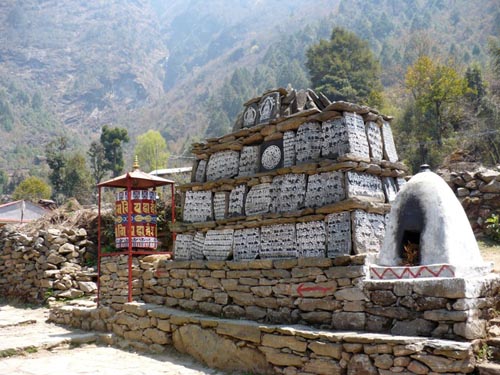 Our first stop in Nepal was its capital city of Kathmandu. This is the hub for all tourist activities in Nepal and it is certainly reflected by the chaotic traffic, dust, diesel fumes, taxis, rickshaws, cows, dogs, pedestrians, lousy infrastructure, and general indifference by the traffic police. Our Western attitudes are assaulted on all sides by this city. It isn't that different from other experiences in third world countries, but it is overwhelming when you have just emerged from an airplane after being in transit for 23 hours.
After a taxi ride (hair-raising) to our hotel, Kathmandu Guest House, we were pleasantly surprised by a beautiful, quiet garden in the centre of the hotel well away from the wild street scene.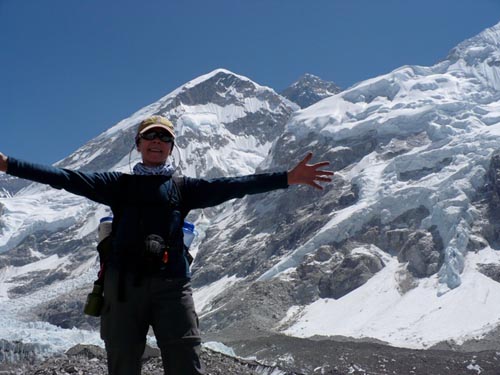 Our trekking trips were arranged, we met our traveling companions, and two days later we were off on our adventures. With nine fellow trekkers, four porters and three guides, we flew to Lukla (9,400′) to start our journey to Everest base camp. The route north to Everest intersects many of the traditional trade routes to Tibet and China and immerses the traveler into Sherpa culture and their Buddhist religion. The trek, though strenuous, will be comfortable enough for someone who has worked on their conditioning prior to this adventure. As I said before, AMS can strike anyone at these altitudes, and your final destination of Everest base camp (17,500′) requires professional guides to help you through the acclimatization process. The views of mountains, glaciers, villages, and monasteries changed daily. The accommodations became more sparse and uncomfortable but the exhilaration of being in these mountains is why you came here in the first place. Although you maintain a strict regimen of sanitization throughout the trek, your only shower came ten days after the start, and you soon realize how the gravel and dust of the mountains is relocated to its lower valleys.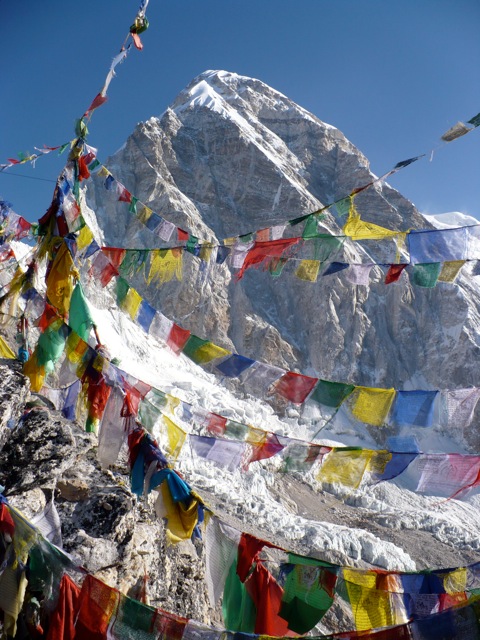 I know that I was reluctant to consider this adventure holiday, but it was well worth the effort. If you have a bucket list, this should be on it – just don't wait until your knees are wearing out!
Photos: By Helen Hoskins
1. Kathmandu Guesthouse Courtyard
2. Thamel District, Kathmandu
3. Mani Wall and Prayer Wheel
4. Khambu Glacier and Mount Everest
5. Prayer Flags and Mount Pumori