by Caroline M. Jackson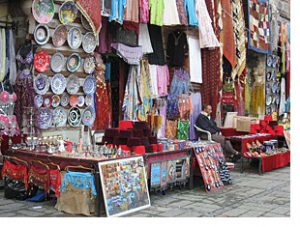 "Beautiful lady. I like your hat. Can I buy your hat for my mother?" With arms extended, my charming Turkish protagonist made a vain attempt to beckon me into his shop which cascaded with curtains of soft leather purses and jackets.
Tipping the wide brim of my sunhat down a little further on my brow, I chuckled as his words followed me up the street, "Why you walk so fast lady? Come back. Come back."
Earlier that morning I had stood alone on the bow of our cruise ship and watched the sun rise like a blood red orange from the Sea of Marmara. In my atlas, this inland sea looked insignificant yet it is the link between two mighty oceans, the Aegean Sea to the west and the Black Sea to the east.
As we approached the busy port of Istanbul, our vessel was surrounded by a pandemonium of water craft. Packed passenger ferries zigzagged across the harbor, fishing boats seemed oblivious to danger while massive oil tankers and heavily laden freighters were bound for Romania, Russia and Bulgaria.
Our ship's horn blared sotto voce competing with other vociferous vessels. Fellow passengers lined the railings and took in the scene through binoculars. Meanwhile our shipboard commentator calmly informed us that accidents were commonplace because many ships do not take a pilot on board. The waters are international and therefore do not come under the jurisdiction of Turkish authorities.
I fleetingly pondered the details of our lifeboat drill which had taken place a week earlier in Civitavecchia, Italy. However, I took solace in the fact that most nearby water traffic was smaller than our the Galaxy cruise ship.
I was so engrossed in the scenario unfolding before me that I had almost forgotten to look upon Istanbul, the only city in the world built on two continents. Despite being swathed in an ethereal blue haze that covered its face like a veil, I could spot the Blue Mosque with its six minarets and the dome of the famous Agia Sofia.
Later that afternoon my husband and I enjoyed a fascinating visit to both these architectural wonders which are well described in many travel books.
In the early evening our tour bus pulled into one of the entrances to the labyrinthine Grand Bazaar. Before disembarking, our local guide, Tomay, gave us a pep talk about pick pockets, bargaining and how to avoid getting lost in this rabbit warren of alleys and thousands of covered shops.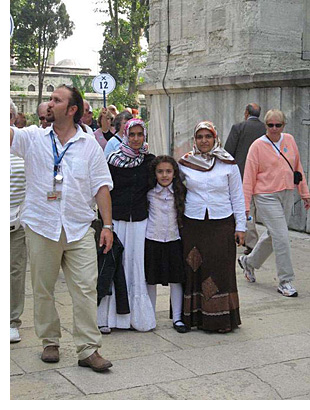 Despite imaginings that I might be held up by a scimitar- wielding mugger, I thoroughly enjoyed my visit to this Aladdin's Cave . No-one tried to rob me and the merchants were polite and entertaining. Sometimes we were offered tea poured into tulip-shaped glasses suspended on silver trays.
This is a common gesture of hospitality. After sauntering past kiosks of leather purses, gold jewelry, colorful tiles and exotic belly-dancing costumes, my constraint sagged and I chose two beautiful Pashmir scarves.
The real fun came when I tried to extricate my liras for the purchase. The notes were so tightly encased inside my money belt that my husband finished up paying for the purchase rather than cause further embarrassment.
Our arrival in Istanbul coincided with the first day of the holy month of Ramazan, a time when Muslims do not allow anything to pass their lips between dawn and dusk. This includes food, drink, smoking and even chewing gum.
No wonder many merchants were yawning in the early evening and our tour guide admitted being very thirsty. By the time we exited the Grand Bazaar, darkness had enfolded the city and fairy lights encircling the minarets were lit announcing the end of the day's fast. Hundreds of people stood in line for a free meal from the Mosque. According to Tomay, it would be close to a three-hour wait.
The tortoise-paced bus trip back to the ship gave us a glimpse into the life of Istanbullus. Modern trams whisked along the streets, jam packed with commuters who were now free to drink bottled water. Traffic snarled along and police controlled busy intersections with whistles and hand signals.
At 7 pm shopkeepers snapped their gates closed and bakeries and street vendors opened up to sell all kinds of pastries made with honey and nuts. Women wearing colorful scarves and several dressed in black chadors waited patiently while a vendor juiced dozens of pomegranates.
Street-side restaurants were packed to overflowing with tiny stools and tables abutting the curb. At this time of night it can take over two hours to drive across the Galata Bridge. With a city of nearly 20 million residents, it is perhaps not surprising. Everyone within sight was eating and I spotted a bus driver using his steering wheel on which to balance his dinner plate.
The following day we visited Topkapi Palace, once the residence of the Ottoman Sultans from the 15th to 19th centuries. This huge place is a series of pavilions and courtyards featuring the Harem, Library, Throne Room and the Exhibition of Imperial Costumes.
One glance into the Weaponry Pavilion exhibiting the brutal looking swords of Selim the Grim was enough to have me scurrying onto the Treasury. Here I goggled at the famous Topkapi dagger with three enormous emeralds and the teardrop-shaped 84-carat Spoonmaker diamond which according to legend was found by a pauper who traded it for three wooden spoons.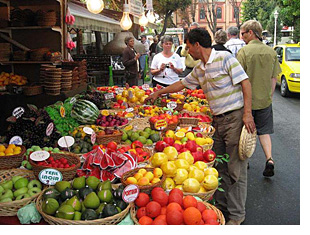 Our shore excursion ended with lunch on the rooftop of the World Park Hotel. Here out of sight from most fasting Muslims, we were introduced to a variety of mezes, delicious hors d'oeuvres made of stuffed peppers, cucumber with yogurt, eggplant and humus.
Even though I had only experienced a taste of Istanbul, I was intrigued by this city and hoped that one day I would return.
About the author:
This week Traveling Tales welcomes Canadian freelance travel editor Caroline Jackson, who lives in North Vancouver on Canada's West Coast. View her website at www.crestlynn.com
Photos by Hamish Jackson:
1: Browsing the markets is popular with visitors.
2: A typical Turkish family strolling the streets of Istanbul.
3: Lots of choices at the fruit stands.