by Erin Wiggins Shaver
My husband and I met in an American Irish pub, over the ubiquitous libation that is well known in the U.S. as the Irish Car Bomb. Five years later we finally experienced the real deal—on our honeymoon, no less—seeking the allure, merriment and mystique we'd always associated with the fabled Emerald Isles.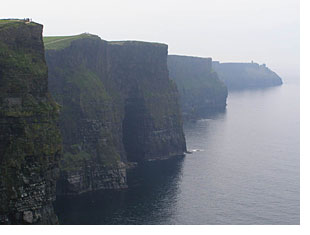 William Butler Yeats famously wrote that "romantic Ireland's dead and gone" in 1913, and no place conveyed a sense of curiosity about those words more than the Cliffs of Moher—the country's highest cliffs.
Before the "Celtic Tiger's" recent tourism boon, Ireland's fabled western coast was left behind in another era. Nowadays, although lucky cows still graze the world-class Atlantic vistas, one can see this part of Ireland is rapidly changing.
It was our seventh day in the country, driving around in a "hired" car, and we were definitely excited to see the area. Every tourist we met—in places ranging from Dublin to Killarney—had the cliffs on their itinerary, and every local nodded in approval when we mentioned them on ours. It was the height of summer, a gorgeous sunny day, and our enthusiasm for seeking natural beauty was at an eager high.
Yet our spirits subdued as we neared our destination.
The drive up, unremarkable on its own, was made less enticing by the sight of dozens of tour buses crowding the parking lot—which, of course, commanded a fee. The visitor centre was completely Disney-fied: crammed to capacity, with the dings of cash registers in the well-stocked gift shop a constant buzz.
If that weren't enough, peddlers offered up traditional CDs, Celtic jewelry, Aran sweaters and personalized Ogham etchings along the sidewalk out of the backs of cars and vans.
Not interested in commerce, we hurried by. Holding hands, we fervently climbed up to the coast, only to find giant cranes and bulldozers silhouetting the future: the construction of an expanded visitor centre—complete with a restaurant, observation deck and all sorts of amenities—to ensure even greater future convenience. (Not exactly appealing to a poet's sensibilities.)
The cliffs were now in sight, but amid the clatter of tourists and construction, it was hard to grasp their beauty. Looking back, I'm quite certain both our faces were pretty candid with disappointment.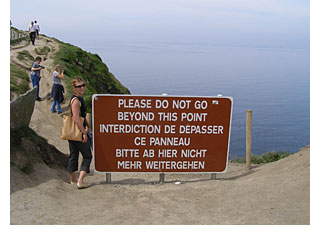 Yet when we climbed to where the guardrails ended—beyond a sign that read "do not go beyond this point" in a fittingly disregarded European way—the unspoiled, peaceful vistas made us suddenly forget the smell of diesel fuel.
Here, the tour bus crowds and their tight schedules didn't seem to venture. Along hundreds of meters of dirt pathway, just on the edge of the coast, no one was selling anything.
Glaringly absent were the drones of vehicles struggling down the narrow Irish highways; the constant shutter of cameras going off; and the multilingual gabbing humdrum of where and when. Here, there were just a few quiet souls, smoking cigarettes, picnicking, reading, journaling…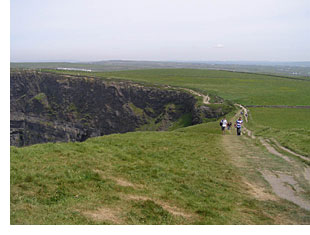 …And the views! It was difficult initially to grasp how gorgeous the cliffs really are. The jade and emerald hills sloped down to 200-meter rocky cliffs, contrasting the rugged black and white rocks with lush ivy. Peering over the edge, the awe-inspiring drop into the azure waters was enough to get my blood flowing and my mind alive with wonder.
It was here, too, that we really appreciated the birds.
Home to roughly 30,000 of them, the cliffs house one of the largest colonies of Atlantic Puffins in Ireland, as well as nearly 30 other species including guillemots, gulls, shags, razorbills and fulmars.
The birds' shrieking and singing brought imagery of a crowded room of excited school children—vibrant with life, swirling and swarming around the spectacular backdrop.
Tourism is now the largest industry in Ireland. This once-struggling nation now has the second highest gross domestic product (GDP) per capita within the European Union—second only to Luxembourg. According to statistics generated by the Irish Tourism Board, tourism revenue has more than doubled in the past decade.
Young families are staying, opening bed & breakfasts to cater to the tourist windfall, and most importantly, raising families at home instead of emigrating. This is a far cry from just 45 years ago, when the country's population reached an all-time low—there were a million less inhabitants in 1961 than there were following the 1840s Irish potato famine.
The Cliffs of Moher, in their raw and stunning glory, serve as the perfect contrast of antiquated and contemporary Ireland. The area is, of course, a must-see if you make it to the Emerald Isles, but surely not intended for tight tour bus schedules or drive-by tourism—the results will certainly disappoint.
Yet that sort of travel pattern is increasingly common in a nation that's only roughly the size of West Virginia.
"You can't just get out of the car 20 minutes in a place," one of the local bed & breakfast owners mused to me on the country's burgeoning industry. "But some people just want to say they've been there."
A few days contemplation, a boat ride and a couple of good seafood dinners later, my husband and I continued our journey, away from the cliffs and their storied, striking coast. We went up to Doolin and Galway, and then back east to Athlone and Dublin.
We saw many other special spots during our stay, but I remember the cliffs the most vividly of all. There we realized the Irish romanticism that we so eagerly sought might, in fact, still be alive—but only for those who venture to find it.
Perhaps if Yeats were alive today, he might be a bit inspired after all.
About the author:
This week Traveling Tales welcomes Erin Wiggins Shaver who lives in Colorado,USA. She's a newlywed, freelance writer and full time editor.
Photos by Erin Wiggins Shaver:
1: The Cliffs of Moher, County Clare, Ireland.
2: The sign told people not to pass, but few followed. The results were worth it.
3: The rewarding and lightly trafficked trail went on for miles along the coast.
If You Go:
• The Cliffs of Moher are in County Clare, Ireland. Current visitor centre construction is slated to be completed in early 2007.
• Nearby Doolin is a great homebase for touring the area. The town is tiny, lively, touristy and sleepy all at the same time. Seeing is believing!
http://www.doolinireland.net/
http://www.doolin.biz/
• The cliffs can be reached by foot or by boat. Cruises to the cliffs will cost you about 20 euros per person and run from April 1 to October 31. Daily trips also go to the Aran Islands.
http://www.cliffs-of-moher-cruises.com/