by Tom Douglas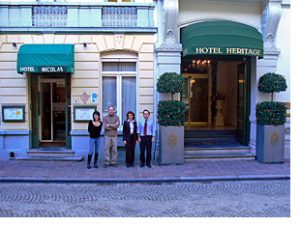 What a difference a door makes!
"Tourists land in here, take one look at the surroundings and know right away there's been some mistake," says Johan Creytens, owner of the Heritage Hotel in Bruges, Belgium, the city of canals that bills itself as 'The Venice of the North.'
It's an easy mistake to make. The Heritage, a four-star establishment, is located at Niklaas Desparsstraat 11. Right next door, at Niklaas Desparsstraat 9, is the Hotel Nicolas, with a two-star rating. It isn't uncommon, according to Johan, for a travel-weary tourist stumbling out of a taxi late at night to wander into the wrong lodgings.
"We don't consider ourselves competitors," says Johan. "They serve a particular clientele and so do we. If somebody chooses the wrong place – and it happens occasionally – we cheerfully send the guest next door, and they do likewise."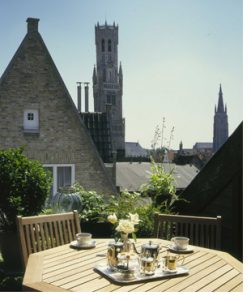 The Heritage provides all the amenities its four-star designation promises, from a sumptuous breakfast buffet in a beautiful salon setting to rooms you're thrilled to get back to after a long day of playing Jo(e) Tourist. A standard room currently goes for 140 euros single and 152 euros double. Breakfast is an extra 15 euros per person.
The Nicolas, on the other hand, rates two stars, so what you get is fairly basic. The breakfast is hearty but fairly unimaginative and the rooms, while clean and comfortable, aren't anything to write home about. This hotel's standard room is a wallet-pleasing 50 euros single and 60 euros double.
I recently stayed at the Hotel Heritage as their guest and they put me up in their showcase Belfry Suite on the top floor where skylights on each section of the sloped ceiling offered a breathtaking view of a different church spire.
This top-of-the-line suite came with a cozy sitting room, linen sheets on one of the most comfortable beds I've ever slept in and a brightly lit and richly tiled bathroom featuring a double sink, Jacuzzi bath and separate shower cabinet. The normal tariff for this suite is 404 euros single and 416 euros double.
Johan and his wife Isabelle purchased their historic building in 1992. It had been a bank for about 70 years and had had a varied existence before that, dating back more than 500 years. Extensive renovations turned the edifice into a luxurious inn and spa – and a residence for the Creytens who live in a suite on-site so they can keep close tabs on its day-to-day operations.
I also made a point of going next door to visit the Hotel Nicolas and can honestly say I would stay there without hesitation. I have paid a lot more for a lot less.
The Nicolas is also family operated by Yiling and Thomas Timmerman and they too take pride in what they have to offer. "We're not in the same league as the Heritage," says Yiling. "But we offer clean, comfortable accommodation for travelers keeping a fairly close eye on their budget."
One attractive feature of these hotels is that they are just a short walk from the Market Square, where boutiques and shops offer a cornucopia of Belgian specialities, including chocolate, lace and myriad souvenirs.
There is also a vast array of eating establishments nearby. For the mussel aficionado, this popular mollusk is the main bill of fare at many Bruges restaurants and outdoor cafés, served by the heaping bowlful and accompanied by some of the crunchiest and tastiest <> (French fries) this side of Paris.
No trip to Bruges would be complete without a visit to a chocolate shop. On the must-visit list is The Chocolate Line at Simon Stevinplein 19. Owner and grand chef, Dominique Persoone, is a gregarious man who is passionate about chocolate.
As much an artist as a cook, he is continually experimenting with cocoa imports from around the world, coming up with delicacies that are fun to eat and incredibly tasty.
If you're in his shop when he comes out front for a brief respite from his busy kitchen, he might treat you to a few samples and an amusing patter about his latest creation.
One proffered bonbon had a small plastic vial sticking out the top and a crusting of salt on one side of the chocolate. This is Dominique's "Tequila Surprise", which he urges you to sample just like you would the drink.
You pick up the chocolate, lick the salt from its side, pull out the vial and allow the tequila it contains to drizzle onto your tongue. You then bite into the chocolate to complete the ritual, flooding your taste buds with a tart lime filling.
Dominique's 'chocolate line' also consists of such flavours as cigar (the leaves of top-of-the-line Havanas are soaked for a period of time to extract the tobacco essence), chili pepper, and a combination of black olive, basil and sun-dried tomato. Each of these odd-sounding sweets was sampled reluctantly – then finished with lip-smacking enthusiasm.
Dominique is also a VIP with the Bruges Chocolate Makers Guild and he and his colleagues spend much time busily preparing for the city's annual Choco-Laté Festival, held around Easter time each spring. Chefs, bakers and chocolate makers dispense samples of their wares from dozens of booths set up in the city centre.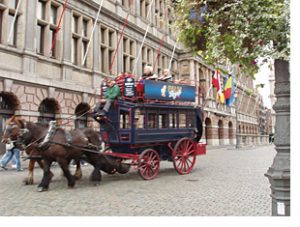 The Heritage and Nicolas, as is the case with many other Bruges hotels, offer special rates and extra goodies like a canal boat ride and other perks during the festival to get you into the mood for a chocolate spree.
No matter which hotel you choose in this medieval West Flanders city, their doors will open onto an unforgettable experience that, just like the chocolate you'll be nibbling on, will leave you hungering for more.
About the author:
This week Traveling Tales welcomes military author and freelance travel writer Tom
Douglas who lives in Oakville, ON, Canada..
About the photos:
1: Side-by-side hotels. Heritage Hotel photo.
2: A view from the deck of the Heritage Hotel. Heritage Hotel photo.
3: In Antwerp you can see the sites from a horse-drawn carriage. Tom Douglas photo.
For more information:
www.hotel-heritage.com
www.hotelnicolas.be
www.visitbelgium.com