Story and photos by Robert Nebel
"A1A — I know I'm close to it," our driver, Robert Roshkind, insisted as he navigated a residential neighborhood in Hollywood, Fla. Robert, who is both a relative of mine and a former New York City cab driver, was driving my wife, daughter and me back to our hotel from dinner at Hollywood's Mama Mia's Italian Ristorante. As he guided us through the back roads, we wondered if we'd actually find the A1A highway.
Finally, thanks to Hollywood's grid system of streets — a blessing for map-challenged folks like me — we made it. And what an interesting time to be there. In Hollywood and its nearby communities in Florida's Broward County, old and new Florida are competing, and it looks like the former is fading fast.
The 1950s and '60s hotels are dwarfed by the rising luxury towers, which seem to be popping up by the minute. The changes make the purists who came here years ago long for the past. For the younger set, though, the changes are exciting.
Hot and trendy are the buzz words in Broward these days. Eating at places like Mama Mia's, shopping at the upscale Melina's on Hollywood Boulevard and checking out hotels such as the gargantuan Westin Diplomat are just parts of what could transform this section of A1A into the next South Beach.
The big difference: This version is more affordable at the moment.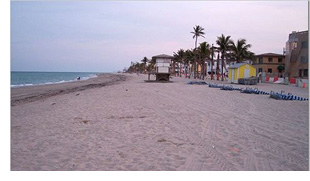 The famous "Hollywood Broadwalk," a boardwalk that runs along Hollywood's beach, is undergoing a major overhaul. Hotels such as the Hollywood Beach Marriott are getting a facelift, too. What was once a typical South Florida Howard Johnson's property has now become a thriving oceanfront getaway, complete with a spa and exquisite restaurant.
Diversity, character still abound
I couldn't help but notice the diversity and character that co-exists with modern life here. I saw a group of senior citizens dancing to French music at a Hollywood Beach pavilion. My lunch companion a few days later told me a number of French people had settled here several years ago.
After watching the seniors dance, I stopped into a cute hole-in-the-wall joint called Angelo's Pizza. I ate the best eggplant parmesian sandwich I've ever had and the friendly waitresses offered their opinions on just about everything.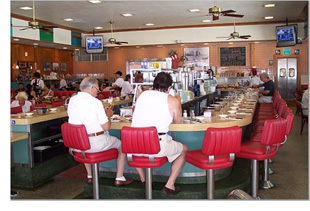 There were times I was a bit sad for the older dining establishments in the area. I visited the Rascal House delicatessen on A1A, a classic haunt that was frequented by the likes of Jackie Gleason.
It's now operating under the shadow of Donald Trump's upcoming real estate tower project across the street. Evidence of its glory days are everywhere — photos of the stars of yesteryear are plastered on every wall. Despite the changing climate outside its doors, the Rascal House still serves up fantastic deli food that's hard to find in most cities.
Water adventures are everywhere
Billy and Roseanne Sochin, who work for an outfitter called Adventure World, are living the high life.
Roseanne typically does the paperwork at the check-in hut near the Westin Diplomat, and Billy loves to hop on a kayak, Craigcat or jet ski and take customers out on the intracoastal waterway system of Hollywood and beyond.
On one recent morning, he put my 7-year-old daughter on a jet ski as my wife and I climbed aboard the Craigcat. We had a blast on the water, and Sochin did a remarkable job of informing us of the area's ecology on his aquatic tour.
Sochin's tour inspired us to learn more about Florida's habitat at the International Game Fish Museum in nearby Dania Beach.
Aside from being the definitive hall of fame for fish, the museum is chock full of informative exhibits that emphasize the need to preserve nature so that these precious creatures can thrive. A fishing simulator and outdoor nature preserve, complete with alligators, make the International Game Fish Museum a worthwhile trip.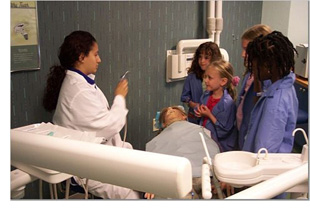 A children's role-playing paradise in Sunrise
For us, no visit to Broward County would be complete without a trip to Wannado City. Located in an outlet mall in nearby Sunrise, this facility is a place where kids get to play grown-up for a day through career role-playing.
You can be a disc jockey, airline worker, firefighter, grocery clerk, television employee and more. My daughter loved learning how to be a dentist and journalist. For parents, it's a dream — children get to learn to value of work while parents can either rest in a lounge or shop in the massive connected mall.
About the author:
Robert J. Nebel is an Atlanta-based freelance writer and video producer. His Web site is http://bobnebel.tripod.com
About the photos:
1. Hollywood Beach's "Broadwalk" inspires visitors to stroll South Florida's premier
beach.
2. The Rascal House deli, in typical Art Deco style, is still around after all these years.
3. At Wannado City kids get to "go to work for a day."
More info:
Hollywood Beach Chamber of Commerce
www.visithollywood.org
International Game Fish Association Hall of Fame & Museum
www.igfa.org
Fun Facts:
Hollywood, Fla. has more than seven miles of white sand beaches.
Hollywood's beaches are recognized as "Blue Wave" Beaches, awarded by the clean beaches council of Washington, D.C ., in recognition of environmentally friendly waters. (Source: Hollywood Beach Chamber of Commerce)
The downtown area of Hollywood features the Downtown Hollywood Art and Design District, which boasts eclectic boutiques and places to dance, see theater and more.
Source: Hollywood Beach Chamber of Commerce