by Karoline Cullen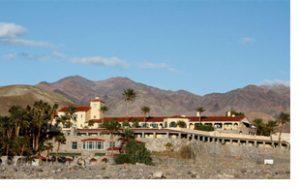 "There could be a cataclysmic event tomorrow," Ed says cheerfully as he welcomes us to the Inn. I look at him in alarm and ask, "What's going to happen?" His eyes twinkle as he drawls, "Well, we may get a millimeter of rain!" We are at the Furnace Creek Inn in California's Death Valley National Park. It is the largest national park outside of Alaska and one of the hottest, driest places on earth. Rain is counted by the drop and when some falls, it is indeed an event.
Deciding we can safely begin our exploration of this land of extremes without umbrellas, we head for the salt flats on the valley floor.
At 85.5 meters (282 feet), below sea level, Badwater Basin is the lowest point in the Western Hemisphere. After an ancient lake evaporated the basin that stretches for miles is covered in residual white salt.
As we walk across its empty expanse, salt crystals cling to our shoes in big clumps. To the west, mountains rise abruptly from the valley floor to heights where snow falls. Looking back to the roadside, we spot a sign high up on the cliffs. It marks where sea level is.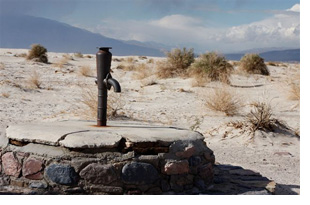 Also below sea level is the Devil's Golf Course. Its surface is nowhere near as flat as Badwater Basin's and walking over the lumpy, salt-crusted terrain is difficult and treacherous. The name correctly implies no one but the Devil would play here and we decide to hike somewhere smoother.
We couldn't ask for smoother than the water-polished walls of Mosaic Canyon. The trail twists and turns through narrow channels of curving travertine marble. Streaked white, tan and gray, the rounded surfaces are cool to the touch. The whole canyon is a testament to the power of the water that sculpted it eons ago.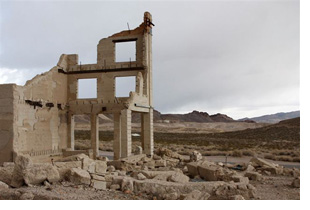 When borax was mined here in the late 1800's, water was scarce. Mule trains hauling ore out of the Valley also pulled their own water for their journey. In a feat of strength and tenacity, twenty mules pulled three wagons weighing almost 40 tons over 275 kilometers of hot, barren desert in a month long round trip. Although the industry was short-lived, the mule train became a Valley icon and some of that history is preserved at the Borax Museum in Furnace Creek.
Mule trains crossed a monochromatic desert landscape but in the canyons, we discover ample colour. A drive through steep ravines and past chiseled rock formations leads to the Artist's Palette lookout.
Glowing in the afternoon sun are multi-hued rocks – yellow, red, blue, green, pink – like a giant's selection of water colours. In Golden Canyon, the towering walls of yellow rock are accented with the occasional green and a flowing canyon of golden brown leads to a vista of red rock cliffs sitting like a crown on a base of white boulders. From Zabriskie Point, we look over eroded badlands of golden tan, dark brown, red, and cream.
With sunset approaching, we trade the coloured rocks of the canyons for the undulating curves of the sand dunes at Mesquite Flats. Surrounded by purple mountains, the tall dunes have elegant forms and rippled surfaces that glow like gold.
Feeling a bit like actors in Lawrence of Arabia, we traipse over one dune after another. They have endless variations in pattern and texture, which give them their own stark beauty.
After dark, we head out into the blackness of the desert. With so little light pollution, the sky is a tapestry of stars. There are so many visible, it is hard to pick out the constellations and even without binoculars we can spot Andromeda, earth's closest galactic neighbour.
In contrast to the chill of a desert night, daytime summer temperatures soar to well over 40 degrees Celsius. I thought the valley would be deserted but apparently, summer is a busy time.
Many European and Asian visitors come; hoping the day they are here is the hottest of the year.
I ask Ed how he handles the extreme heat of summer. It's somewhat like weathering a blizzard, he explains. You crank up the air conditioning instead of the heat, read, watch movies.
And wait for a cataclysmic event – that precious drop or two of rain.
About the author:
This week Traveling Tales welcomes freelance travel writer and photographer Karoline Cullen who lives in Delta, a suburb of Vancouver B.C.
Photos by CullenPhotos:
1: Overview of Furnace Creek Inn.
2: Near Stovepipe Wells.
3: Rhyolite Nevada, a ghost town on the way to Death Valley.
If you go:
Death Valley National Park's three million acres of desert wilderness is about a two hour drive from Las Vegas. www.nps.gov/deva/
You can access many areas in the Park with a regular car but getting to more remote sites requires a four-wheel drive vehicle. Prepare appropriately for extreme heat if you are making a summer visit.
The Furnace Creek Inn is open October to mid-May; the Furnace Creek Ranch is open year round. www.furnacecreekresort.com