by Barb Rees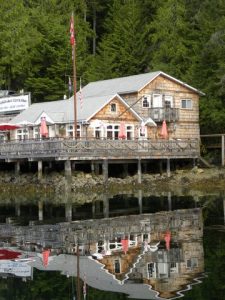 The longest highway in the world starts in Lund, BC about 23 km. north of Powell River. In this bustling jump off point for the islands, Mile 0 marks the beginning of Highway 101 which ends 15,202 km later at the tip of Chile. Your day trip also starts here.
A tiny seaside village, Lund overflows with treasures. Here you can enjoy Nancy's Bakery famous blackberry cinnamon buns on their patio watching a dazzling array of craft coming into the harbour. Across the other side of the bay, follow the boardwalk to the Boardwalk Café for an even more inclusive experience with the water world of Lund. A pail of prawns (when in season) or delicious fish and chips on the deck will have you breathing a sigh, "Aaaah, this is what I needed." Above Nancy's at Pollen Sweaters stroke silky rather than itchy wool garments.
In the historic Lund Hotel, at Tug-Ghum Gallery we love watching Deb work her magic carving rock into magnificent eagles, whales, otters, and seals. Her gallery brims with local art-work from glass star fish, wooden carvings, jewelry, and paintings to books. If you want to stay longer and try kayaking the Copeland Islands, SunLund By-The-Sea offers full service camping and you're only a few steps away from all that Lund has to offer.  More adventurous hikers can start the 180 km. Sunshine Coast Trail, 12 km north of Lund at Sarah Point. The trail ends at Saltery Bay.
A day trip or a longer camping trip to Lund is just what the doctor ordered for a change of pace. www.lundbc.ca  There's something for everyone.
Five kilometers south at Dinner Rock Regional Park with its 13 unserviced campsites overlooking the Salish Sea and Savary Island, we drove down the 1.5 km narrow, winding road (not suitable for big rigs) to our spot. Camping is free with million dollar sunsets a bonus. What a way to escape from the noise and the news.
About the author
Barb Rees, travel writer, author, and speaker, with husband Dave has taken four working holidays from coast to coast to northern coast of Canada. She is passionate about finding human interest stories. It's reflected in her books. They include: "RV Canada On A Dime And A Dream," "RV Canada With Boo The Menopausal Van," and the latest "RV Canada's Far North On A Dream." The fourth in the series will be on tour to Newfoundland in 2013. Owner of LoveToGo Writing she can be reached in Powell River, BC at www.write2dream.com