by Barb Rees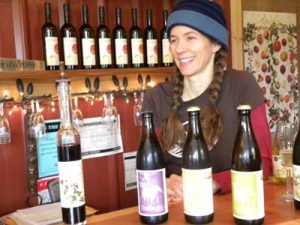 We dined on Scallops Provençale complimented with Columbia Valley "Domaine Ste. Michelle", a sparkling Chardonnay at the luxurious "Inn at Port Ludlow." The next day, after staying in one of their comfy suites with Jacuzzi tub, we left for our Olympic Peninsula day trip.
If you appreciate food grown and prepared by locals, this is the culinary tour for you. Our first stop was at Chimacum Corners Farmstand, where Rob hosted a farm breakfast including local eggs, goat cheese, bread, salsa, and jams. From a fruit stand six years ago, it has evolved into a gathering place for locals and travelers alike who appreciate home grown food.
 At "Finnriver Farm and Cider," Crystie (photo) offered ciders fermented old world style. The ciders on this family run 33 acre organic farm are delightfully crisp and so delicious.
In Port Townsend we visited the "Mt. Townsend Creamery." Dillon, the head cheese maker educated us in the art of making cheese using milk from local dairy herds. Seastack cheese is rolled in pine ash which was originally used to preserve it.
Lunch in Sequim at the "Alder Wood Bistro" with their wood fired oven was a delectable feast. My husband Dave enjoyed Crispy True Cod Bahn with Neah Bay cod. I indulged in Moules Frites, wood fired Kamilche mussels and  home cut fries. Appie's introduced us to goose-neck barnacles from Neah Bay.  It truly was a luscious meal fit for a seafood lover. Our tour capped off at "Olympic Cellars" with the "working girls." The winery has a large gift shop and tasting room.
The journey up the peninsula was just a teaser leaving us wanting more. You can easily make these as day trips from Port Townsend, but the scenery and food is so outstanding you'll want to return for a longer visit. When you're ready for more, contact Olympic Peninsula Visitor Bureau.
About the author:
Barb Rees, travel writer, author, and speaker, with husband Dave has taken four working holidays from coast to coast to northern coast of Canada. She is passionate about finding human interest stories. It's reflected in her books. They include: "RV Canada On A Dime And A Dream," "RV Canada With Boo The Menopausal Van," and the latest "RV Canada and the Polar Bear Dream: Adventures in Western Canada
." The fourth in the series will be on tour to Newfoundland in 2013. Owner of LoveToGo Writing she can be reached in Powell River, BC at www.write2dream.com