By Chris Millikan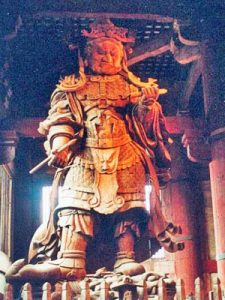 Boarding an express train, we make a day trip from Osaka to Nara, established in 710 as Japan's first permanent capital.
Upon arrival, light rains fall; with umbrellas unfurled, we stroll throughout Nara-koen Park.
Created from wasteland at the base of Wakokusa-yama Mountain during the 1800s, over 1200 deer consider the park home. Thought to be messengers of the gods during pre-Buddhist times, these small Sika deer are now designated national treasures, and nudge visitors persistently for special shika-sembei biscuits sold by vendors for a few yen.
Two fiercely snarling wooden figures carved in the 13th century guard huge gates leading to famed Todai-ji. Ahead, Great Buddha Hall ranks as the largest wooden building on earth.  Rebuilt in 1709, this version is only two-thirds the original size!
Inside sits one of the world's largest bronze figures. Measuring 16 meters high, the Great Buddha embodies 437 tons of bronze and 130 kilograms of gold. Originally cast in 746, historians believe an emperor commissioned this massive work as a charm against smallpox then ravaging Japan.
Lighting this dim hall thousands of flickering candles softly illuminate Buddha. Perfumed smoke curls upward from countless incense sticks; fresh flower offerings lie scattered everywhere.
Around the back of this immense statue stands a tall wood column with a hole at its base – exactly the size of this Buddha statue's nostril! Temple lore states that anyone squeezing through that hole is assured of enlightenment. Children easily slip through. Optimistic adults make serious attempts, get stuck, and struggle back out! Our slim son decides to try his luck and successfully wriggles himself through! Everyone gazes in awe as he saunters nonchalantly away, smiling humbly.
Out in fresh, rain-washed air, umbrellas bloom and bob along the wide stone walkway. Tiny shops offer lovely brocaded amulets in vibrant colours, blessed for every imaginable wish: prosperity, harmonious relationships, luck and even passing exams.  Our son buys an amulet for his grandparents, its elaborately embroidered gold and silver threads signifying health and longevity.
Strolling eastward, we climb steep flights of stone steps past two halls: Nigatsu-do known for its Water Drawing Ceremony held in March; further south, Sangatsu-do, the oldest building on the Todai-ji site, housing a collection of rare statuary. At the woodsy base of the hill stands the Shinto shrine we'd been seeking. Founded in the 8th Century, Kasuga Taisha was rebuilt every 20 years, according to tradition. Lanterns line the pathway; many more hang in the shrine. During lantern festivals, its 3,000 stone and bronze lanterns are lit. From its wide wooden veranda, we gaze out over Nara before walking back down through the park.
A pretty neighbourhood lies just below the shrine, a mosaic of postage-stamp gardens, roadside shrines and wandering deer. At Kofuku-ji temple, we stop at the lofty, five-storied pagoda, second tallest in Japan, glimpsed earlier from a distance.
In a cozy cafe near the station, bowls of udon noodles topped with crisp tempura shrimp and vegetables revive us; countless cups of green tea end a day trip rich in history.
About the Author:
Chris Millikan is a freelance writer/photographer living near Vancouver, BC. As a former teacher and elementary school principal, Chris now presents articles as an inviting 'curriculum' depicting the joys of travel. Many BC community newspapers, Open Road Driver Magazine and Senior Living Magazine regularly publish her articles; In-flight Magazines, the Vancouver Sun and Province have also featured her stories. As BC Association of Travel Writers Vice President, she supports colleagues' aspirations. And traveling off the beaten track with writer/photographer partner and hubby Rick, their published tales reflect great adventures. Their 2009 Kalama Award acknowledged an array of their stories reflecting the rich culture of Maui, Molokai and Lanai.