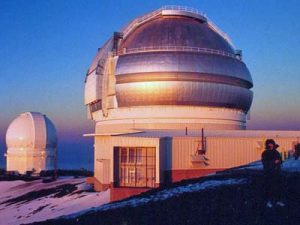 By Chris Millikan
Signing up for a totally new eco-experience on Hawaii, the Big Island, we take an extraordinary day trip from Kona.
From Hawaii Forest and Trail headquarters, our guide drives our van load of adventurers upward across Parker ranch lands and onto distant Mauna Kea volcano.
After rolling smoothly through miles 'n' miles of these lush green pasturelands and ancient black lava flows, we stop at an abandoned sheep-station to wolf picnic suppers, condition lungs for the thinner air of higher altitudes…and visit the rustic 'Kona Lua' toilets!
Under a weathered wooden shelter, I savour my scrumptious macadamia-nut-encrusted fish and pineapple-rice while others tuck into savoury ribs or herbed chicken. As the sun sets, temperatures plummet further. In the chilled air, everyone eagerly slurps up piping-hot soups and warm their fingers around cups of exotic teas. Donning the provided thick-quilted Arctic Parkas with cozy hoods and a pair of pudgy, insulated gloves, I suddenly realize that my chic Capri pants with coordinating hoody had been a way too optimistic choice for this adventure! Fortunately, a fellow adventurer from Minnesota rescued me with her extra pair of fleecy leggings…the value of which I fully realized at our next stop.
An entirely unfamiliar Hawaii emerges at Mauna Kea's 14000-foot-summit. Bitterly cold winds howled cruelly across layers of stark brittle snow and shrieked forcefully along a row of shiny-sleek observatories straight out of Star Wars. Frozen moonscapes emerge surreally from kaleidoscopic sunset colours.
Down below at the Visitor Center, we begin some incredible night sky observations…by first munching crispy macnut cookies and sipping steaming mugs of hot chocolate. Then, amid breath puffs floating in the frigid dark, Megan sorts the planets and stars for us in near-perfect visibility: Venus, Orion's belt, the Plaides and outlines of the southern constellations. Using our naked eyes or binoculars, she helps us sight moon-craters, Polaris and Mars. And peering into powerful telescopes trained on other celestial treasures, I'm awestruck by superb views of Saturn's rings, incredibly close and crystal clear.
On our return, all laughingly agree that our nighttime escapade up Mauna Kea had been a great star party…no Brad Pitt or Angelina Jolie, but celebrated star sightings nonetheless!
When You Go:
About the Author:
Chris Millikan is a freelance writer/photographer living near Vancouver, BC. As a former teacher and elementary school principal, Chris now presents articles as an inviting 'curriculum' depicting the joys of travel. Many BC community newspapers, Open Road Driver Magazine and Senior Living Magazine regularly publish her articles; In-flight Magazines, the Vancouver Sun and Province have also featured her stories. As BC Association of Travel Writers Vice President, she supports colleagues' aspirations. And traveling off the beaten track with writer/photographer partner and hubby Rick, their published tales reflect great adventures. Their 2009 Kalama Award acknowledged an array of their stories reflecting the rich culture of Maui, Molokai and Lanai.