By Irene Butler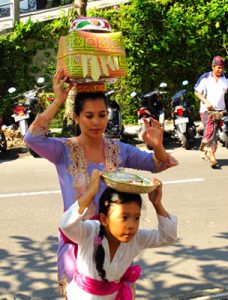 With 17,504 islands in the Indonesian archipelago, island hopping is a must.  Our choice of day trips from Jakarta, the country's capital, was to the island of Bali, which can be done in a day, although most travellers dally for at least a few. From traffic-clogged Jakarta situated on Indonesia's largest island of Java, a short flight brings us to Bali's tranquil setting of cream-coloured sands, swaying palms and luminescent green terraced rice fields.
Our first sojourn is into the island's interior jungle to the Four Seasons Sayan Resort & Spa for ultra-pampering, while we seek out the essence of the culture. In the nearby town of Ubud the spirituality of the gentle Balinese people resonates from the public temples and small alters that grace every home. The Balinese practice a form of Hinduism, worshipping many of the same gods as India's Hindus, but with their own supreme god – Sanghyang Widi.  However, animistic beliefs of continuous encounters with spirits take front stage in their daily lives. Benign Balinese gods exist in high places such as the sky and mountains, the evil entities abound in the earth and sea, with humans in the middle realm who must balance these forces with daily offerings of flowers, sweets and rice.
A focal point of Ubud is the Sacred Monkey Forest Sanctuary. Ancient temples dot this sizeable park and Balinese Macaques (a.k.a. long-tailed Macaques) are everywhere – they swing from tree branches, sit with splayed legs while munching chunks of coconut supplied by park attendants, or a banana treat from visitors who purchase a bunch at the entry gate. Beyond the Sanctuary we walk along winding dirt roads that lead to craft villages, each with their own specialty; from batik cloth, wood carving and paintings, to sliver jewellery.
From the dense central jungle we move outward to where the turquoise sea laps the soft sand beach of the Four Seasons Resort and Spa at Jimbaran Bay. The resort's special evening performance of classical dancers beguiles us with intricate eye and hand movements to the sound of ancient percussion instruments.
Several kilometre from the resort is the rockin' beach town of Kuta, where we rub elbows with surfer dudes and sun-baked bikini-clad travellers while milling about kitschy shops, and relaxing in funky cafes.  We frivolously bide our time until sunset. As old Sol begins its descent, local families spread picnic suppers on blankets, tourists perch on rented lawn chairs and snack/souvenir vendors capitalize on the ever burgeoning crowd. The fiery ball slips behind the horizon leaving spectacular splashes of ruby reds, goldenrod yellows, and autumnal orange across a darkened sky.
Leaving behind the serenity and the natural beauty of the island, we concur – as far as earthly paradises go, Bali has no parallel.
Photo by Rick Butler
Transportation:
Air Asia flies from Jakarta to Bali 7 times daily; flight-time approximately 1 hr 40 min.
Or Jakarta to Bali by train/ferry or bus/ferry – if you have more time.
About the Author:
Irene Butler is an award winning travel writer and author of "Trekking the Globe with Mostly Gentle Footsteps." Her articles have appeared in national and international magazines, newspapers and E-zines. She and her photographer husband Rick explore the world for six months of every year. www.globaltrekkers.ca