by Irene Butler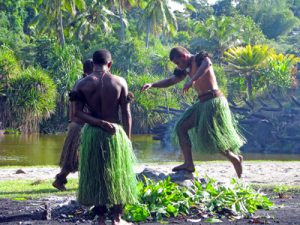 Day trips from Denarau Island to Fiji's largest island of Viti Levu are just a causeway away!  Our Sofitel Resort & Spa on Denarau is a perfect launch from which to seek out the cultural, historical and untamed tropical beauty of Viti Levu.
The country's capital of Suva sweeps us back to the time of British rule with its colonial buildings and small churches from the early 1900's. The Fiji Museum captivates us with a chronology of Fiji's past with displays of traditional double-hulled canoes, and chief's whale bone necklaces. From tribal feuding times is a daunting array of war clubs and utensils used in cannibalism practices, as well as the sole from the shoe of missionary Reverend Thomas Baker who in 1867 was eaten for insulting a village chief. Another area reveals the terms of British indenturing of Indian workers for the sugar cane plantations between 1879 and 1916. The descendents of these workers, known as Indo-Fijians, and the indigenous Fijians are the country's major cultures.
A day trip milling around the laid-back town of Nadi is a fine way to rub-shoulders with locals. Neat coffee shops line the streets serving our new delight – cassava cake. The sizable open-air Municipal Market overflows with vendors sitting on mats displaying taro, pineapple, mango, and strange-looking kava (yaqona) in all its forms; tangled stems, roots, and pre-packaged kava powder. The "grog" made from this plant, belonging to the pepper family, is consumed at ceremonies and social occasions.
Not to be missed is a Sigatoka River Safari. We skim up river in a jet boat to the remote village of Koronisagana where our curiosity about kava grog is to be satisfied in a traditional ceremony. The chief and village dignitaries make up a fresh batch of the mildly sedative, tongue mumbling brew that we down from a halved coconut shells. Our appetites spike for the "lovo" (earth oven) feast the village ladies prepared – tender chicken and fish in a mix of tangy spices, thick slices of baked taro and banana-like plantain. It was good to shake down our overindulgence in traditional "meke" dancing with the villagers.
I couldn't imagine leaving without yet another day trip to Pacific Harbour Bay, where legendary firewalkers of the Sawau Tribe from the nearby island of Beqa walk over scorching rocks – as did their forefathers for hundreds of years. With ritualistic chanting the chief and several other male tribe members not only tread upon, but stand with arms outstretched on the smoldering rocks with no discomfort showing on their faces. A later close inspection of one young firewalker's feet reveals no ill effect – their feat (pardon the pun) boggles the minds of scientists.
In between our day trips we relish soaking up the amenities of the Sofitel, with dips in the pool, sunset strolls on the beach, scrumptious suppers in the ocean view restaurant, and more than once finding our way to the resort's spa for a massage and dip in a private outdoor tub filled with fragrant Frangipani flowers.
In a (coco)nut shell, there is something for everyone in Fiji whether adventurer or beach bum. The population adopts you the minute you arrive and the islands confer a rare tranquility being that the total population numbers less than 900,000. To Tourism Fiji's catch phrase "fiji me" – I say, "anytime".
More Info:
Fiji is comprised of 333 islands with 5-star resorts to remote "Robinson-Crusoe-type" escapes. Snorkeling/diving the coral reefs, world-class surfing are draws.
Denarau Island is reclaimed land off the west coast of the Viti Levu. Denarau Marina port is used by catamarans departing to and from the offshore islands.
About the author:
Irene Butler is an award winning travel writer and author of "Trekking the Globe with Mostly Gentle Footsteps". Her articles have appeared in national and international magazines, newspapers and E-zines. She and her photographer husband Rick explore the world for six months of every year. www.globaltrekkers.ca
Photo Credit: Rick Butler