By Rick Millikan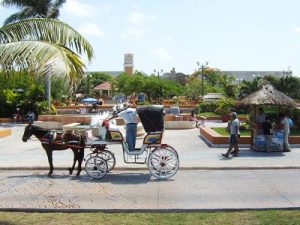 Isla Cozumel seems to float alongside the Yucatan Peninsula's eastern coast. Our day trip from Cancun includes a ferry ride to Cozumel's main port, where a Mariachi quintet joyfully strums guitars, blares trumpets and harmonizes traditional songs.
While fellow walk-on passengers catch cabs for leeward beaches to snorkel offshore reefs or inland for horseback rides to Mayan ruins, we stroll San Miguel itself and delve into local culture.
Conquistadors never found gold here. Yet today's bargain hunters seek out treasures among countless jewelry stores and shops along Avenida Melgar. Street vendors are strangely absent. Not one enterprising Mexicano calls out, "Hey amigo, I got a deal for you!" Instead, shopkeepers offer cordial invitations and freebie inducements. One clerk presents complimentary pina coladas and a map. Sipping these frosty treats under the hot morning sun, we figure out our location… then we're off to Plaza del Sol.
A bronze bust in the plaza's center honours Benito Juarez, an indigenous hero. A plaque explains how Benito, Mexico's first constitutional president, made extensive reforms creating its modern democracy. Beneath the plaza's orange-blossomed poinciana trees amid dozens of bustling open-air stalls and sidewalk cafes, we people-watch. Here, fellow explorers haggle over tooled belts and straw hats. We then join them, first browsing over picture puzzles, painted pottery, puppets and colorful serapes and fancying a future fiesta, we purchase hot sauce, tequila and maracas.
Museo de la Isla de Cozumel stands a few blocks away, an aptly converted Spanish revival-style hotel. The ground floor offers wonderful exhibits on Cozumel's natural environment. The top floor focuses on history displaying artifacts of the island's widespread Mayan settlements and model of one of the Maya's sophisticatedly designed palaces. Storyboards describe how Cortez landed here in 1519, enlisting allies for his later conquest of mainland Mexico. In another gallery, we see colonial torture devices and learn how the Spanish suppressed and mistreated the Maya. Mayan resentment continued against a new group of outsiders following Mexico's independence, resulting in the 'War of the Castles.' San Miguel became the haven for displaced Mexican settlers during this bloody 1848-1901 conflict.
Sipping chilled Coronas on the museum's cafe balcony, I ask our diminutive waitress about Cozumel's Mayans. She smiles, "I'm one! I speak Mayan as my first language… as well, English and Spanish." Sensing our interest, she adds, "Be sure to look at that round thatched house in our courtyard. This simple home reminds me of how my grandparents lived!"
Returning via the waterfront's malecon stretching 14 scenic blocks, we admire the colorful bustle of Avenida Melgar and shoreline artwork rising above the turquoise Caribbean. One delightful sculpture depicts young girls balancing on a green sea turtle. Another shows a duo of bronze divers swimming perpetually through a coral arch encrusted with exotic fish, octopus, manta ray and other deep-water denizens. Two definite photo ops!
Re-boarding the ferry, we shake our maracas chanting, "Viva Mexico! Viva the Maya!"
About the author:
A former teacher, Rick Millikan encourages healthy, mind-expanding vacations. With writer/photographer partner and wife Chris, Rick recounts snorkels over colorful reefs, rollicking rides around sensational countryside, strolls through historic cities and walks on the wild side. These local and global adventures are syndicated into several Van-Net B.C. papers, appear monthly in two community newspapers and regularly in both Open Road Magazine and Senior Living Magazine. Rick's passion for cycling propelled past Adventure West columns, Vancouver Province Zen Cyclopath adventures, current Cycling California Magazine articles and ongoing newspaper features. Two of his fictional bicycle tales appear in the anthology Traffic Life.
Plan to visit?
Check out www.carnival.com and www.visitmexico.com.