by Susan Black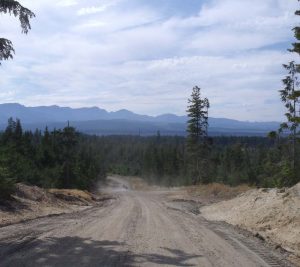 The adventurous 81-kilometre drive to Denman Island is a pleasant day trip from Campbell River south along Highway 19A, also known as Oceanside Route. Our Russian Ural bike rally team was presented with views of Georgia Strait on our left and property in full bloom on our right.
Even with a ferry schedule to match, the drive south offers a wealth of panoramic views of life on this part of the central Vancouver Island.
If you don't own your own boat the only way to get to Denman Island from Vancouver Island is to pay the twenty-nine dollar entrance fee. You are guaranteed a safe return.
The ten-minute over-seas excursion begins at Buckley Bay and presents a spectacular view of Denman Island's west face, the salty spray of ocean water and a brilliant blue-sky vista. At the port, we disembarked and drove across the Island on Denman Road to the Saturday Market at Old School. The smell of fall vegetables filled the air. Artisans display their wares on tables strewn over the grassed property and there is an indoor 'reusables' building with many free items.
We travelled south on East Road and turned onto the driveway of one of the potters on the Island. Unfortunately, the artist's masterpieces are revealed by appointment only. We stopped next at Jaquie's Wild Fruit and Ice Cream at Gravelly Bay and picked up some luscious blueberries to add to our picnic feast.
Further down the road, at Bill Mee Park and Boat Launch, we barbequed turkey and pork sausages, fed on various salads and devoured our treasure of berries. At this point we were presented with an expansive view of Hornby Island to the east. The boat activity was plenty, the ocean smell pungent and the light breeze refreshing. We walked over the volcanic rock in search of fossils and interesting crustaceans.
After a calm and relaxing session at the ocean's edge, we boarded our bikes and headed off to roads less travelled. Our return trip north on East Road led to Swan Road, an undeveloped 17-kilometre path of gravel, sand and more gravel. As we headed north, we were rewarded with spectacular views of mountains, brilliant blue skies and untouched wilderness.
We arrived at Denman Village where friendly folks at the General Store steered us toward their world famous Denman Island Chocolate bars. We boarded the next ferry and said farewell to the pleasant, quiet and gentle Denman Island.
About the author
Susan Black is a published author. The Little Red Book Teaching ESL in China reveals her expedition to China, along with her husband. Most recently, her essay "How Detachment Changes Everything" was included in the anthology of stories published in The Moment I Knew–Reflections from Women on Life's Defining Moments. She won Second Prize for her story, "Cowboys and Indians" at the 2010 Powell River Writers Conference. Susan's interests include traveling with her husband on their Russian URAL motorbike, walking, swimming and reading. To learn more about Susan, visit her at: http://susanbraveheart.blogspot.com/ and http://uralbuddies.blogspot.ca/