By Chris Millikan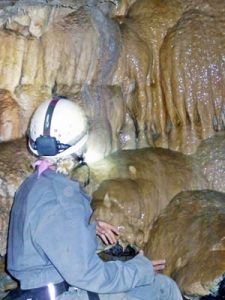 An exceptional day trip from Courtney, BC introduces us to the mysterious world of spelunking at Horne Lake Caves Provincial Park.
In Horne Lake's caverns, caving encounters can be easy or extreme, self-guided or guided.
When younger, my husband and I might have chosen to climb the underground waterfall, rappel down sheer rock faces or crawl on our bellies through narrow passages. But on this day, we join popular family spelunking with other novice cavers. Strapping on miner's helmets topped with little headlights, we set off to take a look UNDER Vancouver Island.
Guide Janna explains this area's unique geology during a moderately strenuous 30-minute hike up an old logging road. "Melting glacial water dissolved Vancouver Island's underlying limestone over millions of years, hollowing out this new island's topography. Today, an extensive cave network of 1400 caves provides a geologists' paradise!"
And pointing skyward, Janna states, "That towering timber took 85-years to grow." Craning necks admire the second-growth coastal Douglas firs. Next holding up a small calcite soda straw, she whispers dramatically, "THIS took over 100-years to form! NEVER touch 'em! Porous cave structures are easily harmed!"
She further prepares us, "Our cave's rocky floors are natural and uneven; none have permanent lighting, sidewalks or railings. You'll be stepping off rocks nearly a meter high!" Instructing us newbies to use our hands, feet and bottoms to travel inside the cave, she unlocks the protective steel door…
One-by-one, bodies stuff themselves backwards through an opening not much bigger than my oven!  Climbing down a vertical iron ladder into a pitch-black underworld, we perch on gigantic boulders in eight-degree darkness. Awaiting the others, claustrophobia threatens some, including me…until suddenly everyone is ready!
Janna introduces us to Riverbend Cavern, one of seven in the park. "This cave is 384 meters feet long and though fairly dry, it'll feel clammy due to cool temperatures. In spring and winter, spelunkers would see it pretty wet and wild. With its larger, easier passages, there are no squeezes in here, no crawls or tight passages ahead…so don't worry!"
Crawling forward over huge boulders, gingerly locating footholds and creeping downward into this wondrous subterranean world, we gradually feel and slide our way into dim light. Gathering in several airy chambers, headlamps reveal high ceilings and walls with astonishing limestone formations: creamy popcorn, bacon stone, moon rock, stalactites, draperies and stalagmites. Natural 'sculptures' include a cigar smoking alligator, 'Winnie-the-Pooh' and a mystical white wolf. According to folklore, this sleek wolf devours careless cavers! Sooo…with utmost attention, everyone slithers back, slowly moving upward, v-e-r-r-y careful NOT to touch fragile crystals.
Curiosity first inspires us to sight-see below the ground. But in the process, we learn that the limestone topography's thousands of caverns make Vancouver Island a unique caving hub, the only one like it in Canada. This very cool experience in our own backyard leaves us with a sense of wonder.
*Note: Due to the terrain, tours are not recommended for youngsters under five years old, the very elderly or those with limited mobility. Warm clothes are advisable as temperatures in the caves dip to eight degrees. Cameras are recommended.
Getting There:
Horne Lake Caves Provincial Park information: www.hornelake.com
BC Ferries: www.bcferries.ca (From Vancouver, BC take a ferry to Nanaimo. Take the Island Freeway north: Highway 19, Exit 79)
About the Author:
Chris Millikan is a freelance writer/photographer living near Vancouver, BC. As a former teacher and elementary school principal, Chris now presents articles as an inviting 'curriculum' depicting the joys of travel. Many BC community newspapers, Open Road Driver Magazine and Senior Living Magazine regularly publish her articles; In-flight Magazines, the Vancouver Sun and Province have also featured her stories. As BC Association of Travel Writers Vice President, she supports colleagues' aspirations. And traveling off the beaten track with writer/photographer partner and hubby Rick, their published tales reflect great adventures. Their 2009 Kalama Award acknowledged an array of their stories reflecting the rich culture of Maui, Molokai and Lanai.