by Susan Black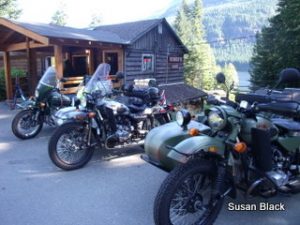 The short 31-kilometre drive to Roberts Lake Resort on Island Highway North, part of Sayward District, is a pleasant day-trip from Campbell River that offers one of the cafe's world-famous sweet cinnamon buns and a steaming cup of coffee.
During our visit, the chatter among the cottagers was pronounced by raving reviews of their recent catch of Rainbow Trout and Cutthroat Trout. Our view from the cookhouse included the lake with treed hills in the background.
My husband and I overhead the owner, Lorna Duncan, telling her customers that the area was once logged by the Norie Brothers in the 1960s, but returned to resort status as it was established originally in 1945. Roberts Lake got its name from the surveyor who discovered it.
The interior of the café feels much like a museum. There are dramatic photos of the area's logging history and the lifestyle it took to live in the bushes. One photo shows a young boy looking up at his father with a big smile on his face. His father is holding a cougar by the scruff of the neck; its eyes glazed over, lifeless.
The nearby cabins range in size from one-bedroom at $75 per night to three bedrooms with a loft, two double beds and a single cot, a shower and indoor plumbing at $99. Each cottage is fully furnished and you are provided with bedding, cooking utensils and cleaning supplies. You can capture more details from the owner who can be reached at (250) 287-9421.
Later, at the lakefront parking lot, only a few kilometers south, we climbed off our motorcycle and walked briefly to the nearest picnic table. A long dock provided us a platform to overlook the expanse of the lake. The water was clear and calm. The layer of smooth rock at the lake's edge made it easy to wade into the swimming hole and refresh our body and head with repeated plunges. Children's laughter filled the air and then only the chirping of birds could be heard as the explorers ran to another area.
We changed into our walk-about attire and took a hike over the wooden bridge. A two-person team of canoeists was paddling gently south along the lake, their oars silently dipping into the deep water. I picked up a rock and skipped it forcibly across the lake. It sank after only four licks.
Our visit to Roberts Lake that day left a calm feeling in my heart. The serenity of the property had left a mark that would have us returning regularly.
About the author
Susan Black is a published author. The Little Red Book Teaching ESL in China reveals her expedition to China, along with her husband. Most recently, her essay "How Detachment Changes Everything" was included in the anthology of stories published in The Moment I Knew–Reflections from Women on Life's Defining Moments. She won Second Prize for her story, "Cowboys and Indians" at the 2010 Powell River Writers Conference. Susan's interests include traveling with her husband on their Russian URAL motorbike, walking, swimming and reading. To learn more about Susan, visit her at: http://susanbraveheart.blogspot.com/ and http://uralbuddies.blogspot.ca/