by Chris Millikan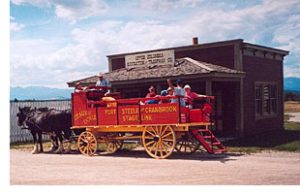 Located in BC's sunny southeast corner, the Cranbrook region provides enjoyable summer highlights, especially for families. Over many years, my hubby, two kids and parents have taken advantage of holiday opportunities there: hiking, camping and fishing together at local lakes and parks;.
We studied millions of hatchlings raised at the Kootenay Fish Hatchery and appreciating Canada's largest collection of refurbished vintage train cars at the Canadian Museum of Rail Travel.
But our perpetually favorite daytrip remains the heritage park at Fort Steele, a slice of BC's riveting past. Dreaming of striking it rich, miners had flocked there in 1864 during the gold rush on Wild Horse Creek. Their early settlement at Galbraith's Landing was later renamed for Sam Steele, the North West Mounted Police Superintendent who established the fort.
Calming tensions between settlers and the Ktunaxa peoples, Fort Steele thrived until the railroad bypassed it, routing instead through Cranbrook in 1898. By 1905, the boomtown had declined into obscurity.
Nowadays, this revitalized outpost returns us to those hurly-burly days of frontier living, transporting everyone into the 1860's with over 60 original and restored wooden buildings, gardens and homes.
Getting there, our children compete with their grandparents for glimpses of the gigantic wooden water wheel signaling arrival. Excitement builds with fond memories of previous rides on the antique steam powered train, looping to wilderness viewpoints overlooking Kootenay River.
Or bumping along in cumbersome crimson farm wagons pulled down dusty streets by classy Clydesdale horses. One time, a scruffy driver rasped: "Some say more gold was taken from this corner of BC than from all the goldfields in California. Yep! That's what they say!" he drawled, his pipe stem clamped between his teeth. The kids quoted him for weeks.
Thoughts of puttering around the jailhouse, the print shop or buying striped penny candy sticks at the confectionery keeps anticipation high. I await the zany hilarity of musical-comedy melodramas at the air-conditioned Victorian-style Wild Horse Theatre.
Boardwalks now replace muddy paths along Main Street. We pass the early police post, austere soldier barracks and the working farm's grassy corrals, where herds of Clydesdales or Cotswold sheep graze behind weathered split-rail fencing.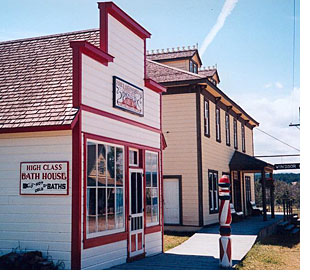 At Howard House millinery shop, we admire fetching brimmed hats elaborately decorated with gaudy fruits or elegant ostrich plumes and satin ribbons. We find the barbershop fronted by universal red and white poles, stage and express office, livery stables and government building, all remarkably restored. Period furnishings, wallpapers, artifacts and memorabilia are placed just as they might have been during the town's hey-day.
Strolling from the old Windsor Hotel corner to the original log ferry office and customs cabins enduring above the river where we imagine the old ferry operated by the Galbraith brothers before popping into the well-remembered confectionery for promised treats.
Ambling on past the hardware store, doctor, dentist, newspaper and telegraph offices we pause at the drugstore admiring jewel-colored jars and mysterious bottles once containing pioneer remedies. The old-fashioned general store sells everything from scrub boards to top hats, always a good place to poke around.
Across at the International Hotel, servers in frilly aprons and ruffled skirts deliver heritage meals with a Victorian flare, but we prefer crowding around oak Bakery tables to sip fragrant cups of tea and munch on fresh-baked cinnamon swirls thick with white frosting. Stone-ground breads and buns baked in huge wood-fired ovens make tasty take-home souvenirs.
Watching tradesmen demonstrate heritage crafts inspires our awe as blacksmiths and tinsmiths melt and shape metals into rustic keepsakes. My daughter buys an old-fashioned candleholder; I get the coat hooks shaped like willow twigs.
Characters in period dress enliven summer streets, engaging us as bona fide townsfolk. Living-history scenarios re-enact dramas of the day, sweeping us into funny, seamy, bawdy and delightful legends: gold rush shenanigans; soldier melodramas; railroad lobbying; dancehall entertainments and heated political tirades.
Sporting gold watch chains, dapper mustached men in snappy bowlers and tight suits shout slogans. Ladies in prim hats, white gloves and bustled skirts shake tiny purses and point flimsy umbrellas indignantly, loudly denouncing the 'goings on' down at the saloon.
Along Riverside Avenue we peer into St. Anthony's Church, remarking on the simple icons and sparse furnishings. At the one room schoolhouse, the kids marvel at the potbellied stove, discolored wallmaps and slates. "No computers," they observe. They play on frayed rope swings and peer cautiously into derelict privies.
Off past the old butcher shop, a dirt path leads to the gigantic restored wooden water wheel perching above the highway. It had once raised 600 gallons of water a minute from mine shafts at Perry Creek, 25 miles west.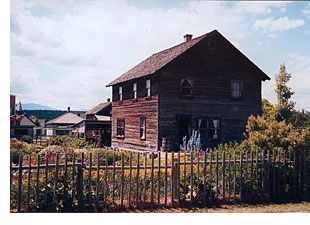 Away from the river, weathered Scandinavian-designed houses exemplify turn-of-the- century homes. Thriving heritage gardens cluster around the doctor's house and the vicarage; a group of residences sporting white lace curtains and railed porches back onto Opera House Street.
The majestic Wasa Hotel's museum features rotating regional exhibits. From the lattice bandstand sitting pertly on the grassy common, we get perfect views of dramatic Fischer's Peak in the distance.
Ending our saunter into historic BC with icy sarsaparilla root beers in perspiring brown bottles. We settle on shady benches outside the Windsor Hotel watching new throngs amble down dusty streets and into the past.
Already I'm thinkin' "Next summer we'll have our portraits snapped, complete with period costumes and frontier backgrounds. I'll be a dancehall girl or a milliner…or maybe a gold panner."
About the author:
This week Traveling Tales welcomes Chris Millikan, a freelance travel writer who lives in North Delta, a suburb of Vancouver BC on Canada's West Coast.
Photos by Chris Millikan:
1: Clydesdales pull an express wagon around Fort Steels's dusty streets.
2: The Windsor Hotel and old barbershop still stand on Fort Steeles's main
street.
3: One of the weathered Scandinavian houses that still stand today.