by Barb Rees
Drumheller, Donalda, Bruderheim, and Wainwright … What do they have in common? They are a few of the places and history in Alberta we discovered when we wandered around Alberta the summer of 2015. The theme was history.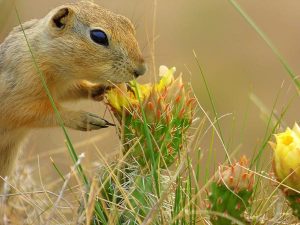 Following #9 North through Irricana we headed through fields of sunshine/canola to the land of dinosaurs, Drumheller.  At the junction for #9 East at Three Hills we dropped down into the Badlands where dinosaurs roamed 75 million years ago. The information center is dwarfed by the largest dinosaur in the world, a Tyrannosaurus rex at 25 m/82 ft. tall and 46m/151 ft long weighing in at 145,000 lbs. Helpful tourism staff found us a camping spot at 'River Grove RV Park and Cabins' with 160 sites.  It's a full service, well treed campground. "Wild West Adventure" is an evening tour on a hay wagon to a buffalo herd.
Next morning we made our way to the 'Royal Tyrell Museum' with 10 galleries and 40 dinosaur skeletons but when we saw long lines of school kids we decided a stroll along the 1.6 km. interpretive trail would be much quieter and our dogs could go for a walk too. We experienced the badlands in bloom, ground squirrels delicately sipping from cactus blooms, four kinds of sage, colored strata and more. Canada really is an exotic land in many diverse terrains.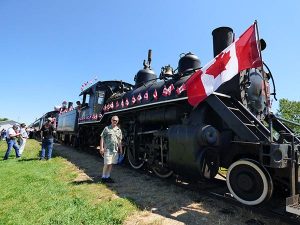 We took the "Alberta Railway Excursions" from Stettler to Big Valley. Oh what a fun trip with entertainment, refreshments, history lessons from 'Gabriel Dumont,' prairie scenery and we even got robbed by gun toting horse-back riding robbers.  Big Valley was the hub of southern Alberta in 1910. The CNR opened for service in 1911. While there visit the restored railway station, roundhouse interpretive centre, grain elevator and the McAlister Motors Museum to name a few sights. Make your way up the hill to the blue church. ARE offers theme excursions which include a meal.
The first weekend in August, "Métis Hivernant Days" celebrate the Métis culture for three days.  'Hivernant' means wintering place. The train pulls in Gabriel Dumont on board with Métis flag flying.
Stettler "Heart of Alberta" sits in the middle of rich ranch land and oil resources. The annual "Stettler Steel Wheel Stampede" in June was voted the best rodeo by competing cowboys. The "Town and Country Museum" is a historic village with 25 buildings. Surrounding Stettler are many parks: Rochon Sands Provincial Park, Pelican Point and Ol'McDonald's Camp on Buffalo Lake, Big Knife Provincial Park on Battle River.
In the tiny village of Donalda you will find the world's largest oil lamp rising 12m/42 ft above the badlands. Visit the collection of over 900 gorgeous oil lamps in the museum. Their claim to fame was the 'Donalda Maid Butter,' peak production in 1965 of 714,466 lbs. of butter. How much is that? You'd need to pile about 3,572 men weighing 200 lbs. each to make that amount. 'Donalda Campground' with 9 sites and power is located at the entrance to the village off #53.
Bypassing the villages of Forestburg and Hardistry we camped in Wainwright at the junction of Buffalo Trail-Highway 41 and Poundmaker Trail- Highway 14. Don't the names bring to mind battles over land and herds of buffalo? Wainwright "Buffalo Capital of Canada" once had vast herds of Plains Bison (buffalo) that came near to extinction in the late 1800's. The Canadian government created a 'Buffalo National Park' in Wainwright in 1907 until 1939. A giant buffalo statue guards the main street into town.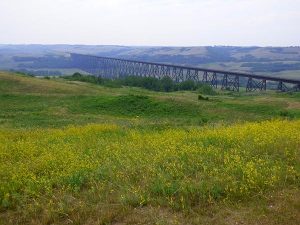 'Battle River Trestle' west of town (turn at the sign, go 7 km on well-marked gravel road) is a spectacular trestle opened in 1909 and still in use. It rises 195 ft. above Battle River and 2,775 ft. long.
There are many parks in the area including: Rochon Sands Provincial Park, Pelican Point & Ol'McDonalds Campground on Buffalo Lake, and Big Knife Provincial Park at Battle River.
We wandered to Vegreville for the world's largest painted Pysanka/ Ukrainian Easter egg. Built like a giant jigsaw puzzle it contains 534 star patterns, 2208 equilateral triangles, and 3512 visible facets. It's 25.7' long, 18' wide and stands 31' tall.
Ukrainian culture is an important part of Alberta. We stopped at the 'Ukrainian History Village' on #16 east of Edmonton. It is so worth a few hours to wander back in time with people in period dress and character telling you stories of their era.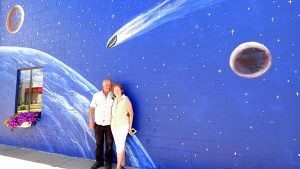 When I discovered in a tourism magazine that a meteorite landed in Bruderheim we made another jog in our route.  A spectacular mural was painted on the side of city hall to commemorate the biggest meteorite in Canada landing in May 4, 1960. A piece of it is on loan from University of Alberta, displayed in a secure glass case in the fire hall.  No human hands have touched it without gloves on. The black is from being burnt as it made its way through the atmosphere.  Ask at city hall to see it.
Very helpful staff sent us on a trip to see the grotto called "Our Lady of Lourdes Shrine" at a cemetery.  The "Skaro Shrine" was built in remembrance of the pioneers who built their first church in 1900.
Wandering Alberta's back roads opened our minds to the history and beauty not normally promoted. Leave yourself plenty of time for impetuous detours. You will be pleasantly surprised at what you'll find.
About the author:
Barb Rees is a photographer, speaker, and author of six RV Canada books from the working holidays her and husband Dave have made from coast to coast to coast of Canada. She presents at the RV Lifestyle Seminars in Kelowna annually. Her articles can be found at: www.suncruisermedia.com . Her books can be found at: www.write2dream.com
Story and photos copyright (c) Barb Rees