By Chris Millikan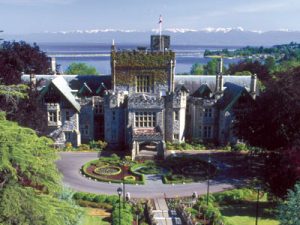 Year round floral spectacles may inspire a day trip from Vancouver to Victoria, BC, where a passion for gardening is evident everywhere. Riotous flowers adorn boulevards and store fronts; hanging baskets, wooden tubs, classy ceramic urns, window boxes and yards overflow with rainbow colors.
Often staying in Victoria a couple of days, we launch daily garden visits from our lodgings. During teatime in the Villa Marco Polo's classic Italian garden, the innkeeper tells us that every February Victoria announces her billion plus flower count to snowbound Canada. And throughout the summer, there are gazillions more to find…
Wanting to view as many flowers as possible, my husband Rick and I start by exploring the unique public collections surrounding nearby Government House. The Sunken Rose Garden features contemporary and heritage blooms surrounding a tiered antique fountain; a carved Salish orca supports a sundial among flowering lavender, sage, basil and mustard in the adjacent Herb Garden. Winsome buttercups, foxgloves and other wildflowers are sprinkled throughout the preserved Garry Oak forest.
Former Lieutenant Governor Lam established the formal Victorian Rose Gardens. Even earlier, another Lieutenant Governor planted ornamental shrubs and evergreens on shady Pearkes Peak, three rocky 'islands' surrounded by grass. And our present Lieutenant Governor hosts summer programs on those lush lawns.  At Robert Dunsmuir's regal Craigdarroch Castle, we notice garden areas being re-established.
Victoria's wondrous and historic park is a pleasant walk away. Beacon Hill Park was established in 1882 when Scottish landscaper John Blair planted over 2,000 trees and shrubs, some of which are now rare and endangered. Today's visitors can putt greens, feed dabbling ducks, watch peacocks strut, even clip-clop under oak canopies in horse-drawn carriages…or like us, delight in the alpine rock gardens and roam the endless beds of brilliantly blooming perennials.
Just outside Victoria we also visit the under reported garden treasure at Hatley Castle, a suburban mansion once belonging to James, Robert Dunsmuir's son. Now open to the public for a small fee, this former Colwood estate boasts nine traditional 'garden rooms.'  A classical Italian garden stretches below the ocean view balcony. Nearby, a meticulous Japanese garden retains its original Zen essence, which was bestowed by a Yokohama garden master at the turn of the century. There's also a fragrant Rose garden and restored century-old greenhouse.  And nature continues to abound on this large estate. A wildlife sanctuary encircles a saltwater lagoon and fifteen-kilometers of trails loop through urban forest.
Visits to Greater Victoria's gardens provide us with days filled with beauty and inspiration.
When You Go:
About the Author:
Chris Millikan is a freelance writer/photographer living near Vancouver, BC.  As a former teacher and elementary school principal, Chris now presents articles as an inviting 'curriculum' depicting the joys of travel. Many BC community newspapers, Open Road Driver Magazine and Senior Living Magazine regularly publish her articles; In-flight Magazines, the Vancouver Sun and Province have also featured her stories. As BC Association of Travel Writers Vice President, she supports colleagues' aspirations.  And traveling off the beaten track with writer/photographer partner and hubby Rick, their published tales reflect great adventures. Their 2009 Kalama Award acknowledged an array of their stories reflecting the rich culture of Maui, Molokai and Lanai.