Ernest Hemingway lived in Havana, Cuba from the 1930s. Find out about the bars, restaurants and hotels he frequented, and that you can now visit.
by Habeeb Salloum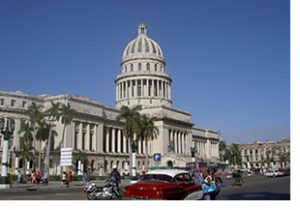 A few years ago, on a trip to Havana, Hemingway's granddaughter Mariel is reported to have said: "Cuba has three icons – Che and Fidel and my grandfather."
Without question her words rings true. A good part of Hemingway's history saturates Havana. In this city he is everywhere.
During my latest trip to Cuba, while following Hemingway's Trail, I stopped a young man in Havana too ask him directions to the hotel Ambos Mundos, made famous by Hemingway. During our conversation he surprised me by remarking,
"You know that Hemingway was a great Cuban!" I looked at him in amazement. Yet I should not have been surprised. This famous American novelist has become an idol to Cubans – both old and young.
Ernest Hemingway who made Havana his main home from the early 1930s often frequented numerous bars and restaurants that have today become almost holy place for Cubans as well as countless tourists. It is as if this noted novelist by his actions and writings, to the Cubans made his name everlasting.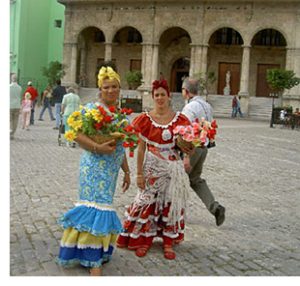 Our first stop on Hemingway trail was in Old Havana at the Bodeguita del Medio Bar/Restaurant, located midway on a small street near the Plaza de Catedral. I could barely look through the window as I made my way through dozens of tourists trying to enter one of Hemingway's watering spots.
It was here that Hemingway made the drink mojito famous. Thousands of tourists visit the Bodeguita every year just to remember the novelist and try to decipher the innumerable writings of famous people who have inscribed their names from top to bottom on the bar walls.
At the back there is an overpriced restaurant where one can savour traditional Cuban cuisine. Yet despite the price, his name imbues so much magic that the restaurant is always full.
From the Bodeguita, we walked for about 15 minutes to Hemingway's favourite eating-place, El Floridita Bar/Restaurant, located on the edge of Central Park. Here, he spent much time sipping on daiquiris – some assert that this drink is his invention. Today, a steady stream of tourists drifts in and out to soak up atmosphere and down the not-so-cheap daiquiris.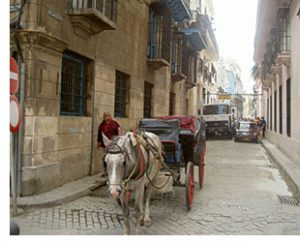 A 10-minute walk from El Floridita, we came to the edge of Plaza de Armas where the fully renovated Ambos Mundo Hotel stands. It is a charming abode where Hemingway used to stay before he bought Finca la Vigia, his permanent home in Havana. It is said that if a visitor stays in this hotel he/she will surely dream of the characters in Hemingway's novels.
In his favourite very small room number 511, Hemingway was inspired to write his famous novel, For Whom the Bell Tolls. With the money he made from this novel, he bought Finca la Vigia.
The room has been turned into a museum where some dozen items are exhibited. For a two-dollar fee visitors can view the Room 511, preserved 'just as it was' when he stayed there in the 1930s – even the bed he slept in still looks like it is newly made. Yet, despite the steep fee for so little, when I visited the museum there was a line up of visitors, of mostly Canadians, waiting to enter.
Leaving Old Havana behind. We drove to Finca la Vigia, located on the outskirts of the city – Hemingway's home from 1939 to 1950. Here he entertained famous people and where he fought and loved a number of the many women in his life. It was donated by his forth wife Mary to the country that he loved and it has become a tourist shrine, called the Ernest Hemingway Museum.
In the last decade Hemingway's old wooden country home fell into disrepair and the foundations began to crumble. A short time ago, a group of American preservationists were given permission by the US government to restore the building.
Now under renovation the Finca is closed to the public. It is planned to return it to its original state as when that renowned writer called it home. Hemingway's personal belongings, furniture and books are being kept in storage until the Finca is fully renovated.
The only things that visitors can see are the outside of the villa; a high tower-like structure with a fine view of Havana, built by his forth wife Mary as a writing den that he never used; his dry swimming pool; the graves of four of his cats that he loved; and his renovated fishing boat, El Pilar.
As we left past workmen working on the Finca one of our group remarked, "They are enhancing Hemingway's Cuban aura. Truly they have adopted him as an idol."
Still wrapped up in the aura of one of mankind's great literary figures, we made our way to Cojimar, a fishing port on the edge of Havana where Hemingway often went on fishing trips on El Pilar, and where he was inspired to write his famed novel, The Old Man and The Sea. It won him the Noble Prize for literature and was made by Hollywood into a movie, starring Spencer Tracy.
For me, it was sheer pleasure to walk the streets where Hemingway once trod then head to the Bar/Restaurant, La Terraza – now a fisherman-turned-tourist hangout and no longer a fishing village.
Back in old Havana as I walked its narrow streets bordered edged by spectacular renovated historic mansions, I reminisced with a friend about our Hemingway tour.
As we parted, he summed the novelist's connection to Cuba well, remarking: "I now know why Hemingway loved this city. Look as these splendid structures and all the attractive women walking the streets! Are they not like beautiful flowers enhancing a charming scene?
You know Hemingway loved gorgeous women!"
About the author:
This week Traveling Tales welcomes author and freelance travel writer Habeeb Salloum, who lives in Toronto, Canada.
Photos by Habeeb Salloum:
1: The Capitol Buildng.
2: Ladies selling flowers at $2.00 each. Also $2.00 for tourists to have their picture taken
with them..
3: Horse and buggy awaiting customers outside the Ambos Mundo Hotel.