by Keith Kellett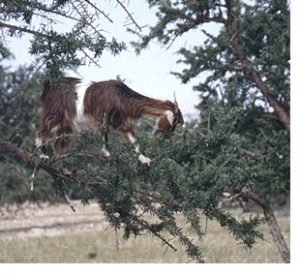 Agadir was once a principal fishing port in southern Morocco until it was totally destroyed in a disastrous earthquake in 1960. It's since been completely rebuilt on a new site and, although the fishing port has been retained, it's now, first and foremost, a resort town.
Most of the architecture is a pleasing kind of 'Hollywood-Moorish', its white buildings contrasting to the inland towns and villages, which are usually a terra-cotta colour.
There's a long sweep of beach, and the climate is usually pleasantly warm rather than oppressively hot. There's night-life for those who want it; those who don't can easily avoid it.
But, frequently, I heard 'Agadir isn't the real Morocco!', and if you tire of shopping, or sitting around the beach or swimming pool, you'll realise Agadir's disadvantage. It's so far from anywhere else! Exploring the 'real Morocco' is usually only achieved by means of a bum-numbing coach ride. But, your bum gets just as numb on a sun-lounger! So why not?
We found that many tour companies operating in Agadir offered coach tours to various destinations … and we didn't need to be 'travelling with' those companies in order to book one. We only had to find the appropriate 'rep' to make a booking.
This is a much better idea than booking a 'package' at home before leaving. There are better ways of spending a holiday than being cooped up with a busload of compatriots but, at least, this way, you aren't stuck with the same crowd day after day.
Marrakech is a favourite destination for the coaches. Once, it was on the hippy trail, and even today it's a magnet for backpackers. But, it's 300 kilometres from Agadir, which means either an overnight stop or an extremely early start.
However, Taroudante sometimes markets itself as 'Little Marrakech' and that's only about a third of the distance from Agadir. The comparison is easy to see; both are walled cities where the dominant colour is terra-cotta and both have busy markets. It lacks Marrakech's Jemaa al Fnaa square, and its almost perpetual display of 'world music' and other performing arts … but it also lacks the performers allowing you to pick your own pocket in return for photographing them!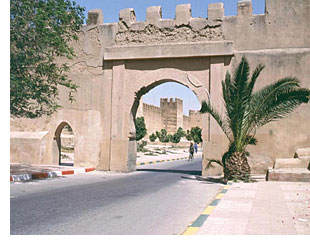 A charming Irish lass from one of the tour companies called at our hotel, and sold us a tour to Taroudante, which would also call at the Tioute oasis, where we would have a traditional Bedouin lunch at the Kasbah.
Contrary to what Hollywood used to have us believe, the Kasbah isn't a mysterious part of the city where foreigners proceed at their peril … it's simply a citadel or a fortification, and most towns, even villages, have one.
The Kasbah at Tioute is perched on a hill-top, overlooking the oasis and the village, and does look rather like a cross between Castle Dracula and Fort Zinderneuf … but, inside, it's a pleasant, modern restaurant. The food, however, is traditional.
The Moroccan national dish is tagine. That's usually lamb or chicken, stewed with olives in deep earthenware dish with a conical lid, also called a tagine. We were four at table; Lorraine my wife, a husband and wife writer/photographer partnership we met on the bus, and myself.
We shared a tagine between us, which we ate Berber style, using pieces of bread instead of cutlery … and earning looks of absolute horror from the two old ladies at the next table.
Meanwhile, a young man named Mohammed presented himself, and said that when we'd finished our meal, he would conduct us down the hill, and show us around the oasis.
At the foot of the hill, villagers with donkeys awaited those who didn't wish to walk. Lorraine took a donkey, as she hadn't quite recovered from an ankle injury. I remembered the flea I picked up last time I rode a donkey, and walked.
On the way to the oasis, Mohammed told us he had two jobs. When not working as a guide, he helped his grandfather in his 'garden'. Maybe that's the right word … at Tioute, it's hard to see where the garden ends and the orchard begins; where the orchard ends and the farm begins. They all sort of segue together.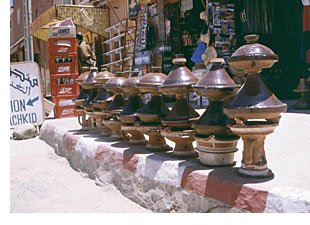 Of course, in an oasis, the important thing is the water, and Mohammed proudly showed us the clean, clear watercourse irrigating his grandfather's 'garden'. Some of us just couldn't resist taking a mouthful of the sweet water … to the horror of the two old ladies, who were resolutely lugging around plastic bottles of water which, by this time, were warm enough to make tea with!
The main crop around Tioute is the argan tree. It grows nowhere else but southern Morocco and a small area in Mexico. A valuable oil is extracted from its fruit, which Moroccans say is essential for cooking tagine properly.
Just outside Tioute, we were surprised to find goats happily grazing in the branches of the argan trees, leaping nimbly from branch to branch. They find argan leaves irresistible, and have no difficulty in climbing on the low branches to get at them.
Achmet, the bus driver, said that sometimes, the goat-boys lift the goats into the trees, in order to request money from anyone stopping to photograph them. He said this deceit is easily detected, because these goats are standing still, not moving about and grazing.
On the way to Taroudante, we saw more goats in trees, not only standing still, but all facing in the same direction. 'Good Muslim goats!' observed Achmet. 'They all face Mecca, and pray to God to get them out of the tree safely!'
About the author:
Traveling Tales welcomes writer/photographer Keith Kellett who makes his home in England.
Photos by Keith Kellett:
1: The goats outside Tioute browse the argan trees for their succulent leaves
2: The ochure-coloured walled city of Taroudante is sometimes known as 'Little Marrakech'
3: The conical earthenware tangine stew pots on sale at Taroudante