by Joei Carlton Hossack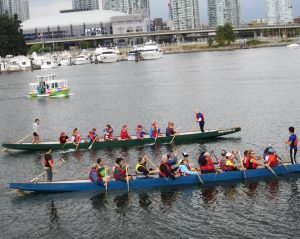 The Skytrain ride for my day trip to downtown Vancouver for my first experience of dragon boating had me intimidated. Even as I walked from the Main Street/Science World station to the Creekside Community Recreation Centre  on False Creek I wondered how to break it gently to my family.
I was thrilled that I wasn't alone in wanting to back out.
My niece, trying to keep us all calm, warned that if we didn't go we would regret missing out on a true adventure. This was my great nephew's birthday party and there were almost seventy of us going dragon boating and except for Daniel and a few of his friends, we were all novices.
Six instructors, standing on the concrete wall shouted instructions and demonstrated the dragon boating row – different from canoeing or kayaking – more swift and crisp. En masse we learned and practiced on shore.
Life jackets on, we readied to board.  The two seats in front filled first followed by the two back seats.  The next two in front were followed by two in the rear and continued until all nineteen of us were on board.  The three other boats filled the same way and I was disappointed that none of the boats had the ceremonial 'dragon head.'
Now I was really nervous.  All of the old people, of which I am one, were put in the same boat even though there were others. I feared we were going out to sea to be put onto an ice floe to float into oblivion and when I aired my feelings a few laughed –.nervously.  Last to board were our instructors – one in front – one at the rear. We immediately shoved off and crashed into the dragon boat crossing our rear.  No harm done.
For one hour we paddled – sometimes fast, then slow and made every effort to do it in formation so our oars wouldn't touch and we could gain some speed. With our paddles stuck in the water at a ninety degree angle, we learned to stop on the spot when commanded to do so. We raced the other boats. When floating we marveled at the skyscrapers and Granville Island in the distance.  I was splashed by my niece sitting in front of me and goaded her mother, sitting directly behind me, into picking up the paddle and getting back to work because the captain wanted to water-ski. It was all is good fun — and a great adventure.
By the time we floated back into the slip I knew that I could cross dragon boating off my bucket list even though I didn't realize that it had been on my bucket list.
About the author
Joei Carlton Hossack is the author of ten adventure travel books, an entertaining and inspirational speaker and amateur photographer. Her favorite mode of transportation is traveling solo in her RV. She teaches memoir writing and travel writing. Please visit her website at www.joeicarlton.com. Joei has created a new line of books called Mini Reads and a new line of bookmarks combining her love of photography and bead work. The bookmarks are available at www.etsy.com/shop/BookBlingbyJoei