By Robert Scheer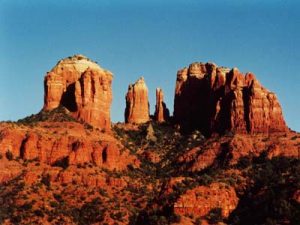 Although a lot of visitors stop off for sightseeing or shopping in Sedona on their way to the Grand Canyon, this fascinating town surrounded by picturesque red rock formations is also one of the most popular day trips from Phoenix.
Sedona has been discovered and re-discovered again and again. In the early 20th century it was a secret location for Hollywood movie directors to film their western movies. Later it became a colony for artists and authors. But toward the dawning of the age of Aquarius Sedona got a reputation as a New Age center, and believers swarmed there for the Harmonic Convergence in 1987. It was about that time that a local psychic named Page Bryant coined the term Vortex to apply to the so-called energy centers that seemed to enhance meditation and stimulate yoga practices.
Today you can buy Sedona Vortex maps, ride in Sedona Vortex Jeep tours and talk to numerous local experts about the best way to absorb the vortex energy into your aura. Or, you can simply go for refreshing walks across the numerous nature trails and get naturally high on some of the most spectacular scenery Mother Nature ever sculpted.
Popular Sedona Attractions
Some of the places we most enjoyed visiting were Airport Mesa, Boynton Canyon, Bell Rock and Cathedral Rock. You can spend hours shopping in colorful areas such as Tlaquepaque Mall. One evening at dinner I felt particularly adventuresome and ordered the rattlesnake meat I found on the menu at a steak house.
Its high desert location makes Sedona an attractive destination all year around, but we found it especially pleasant in the Spring, although I would not go again during Spring Break, as the traffic was at times annoyingly heavy.
We very much enjoyed our lodgings at The Inn at Sedona, an award-winning luxury bed and breakfast that is noteworthy for, among many reasons, the labyrinth in its back yard.
About the author:
Robert Scheer is a travel writer based in Vancouver, Canada. His website is http://pilgrimageplaces.com.

Watch a video on the Sedona Energy Vortexes