By Robert Scheer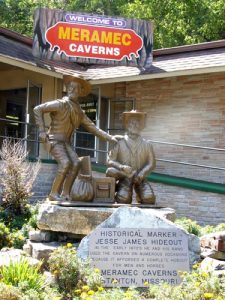 As my eyes adjusted to the total darkness, I thought I might be hearing bats flying overhead, and I was grateful when the guide finally switched the lights back on. I was in Meramec Caverns, where the notorious outlaws Frank and Jesse James once hid from the law.
In 1874, the James gang had robbed a train in Gads Hill, Missouri, but a sheriff and his posse were hot on their trail.
Frank and Jesse knew of a cave not far away that had been used for gunpowder storage during the Civil Way, and they rode straight for it, carrying their loot in a locked strongbox.
Rather than walking into an ambush, the sheriff and his posse waited in siege for three days. Eventually, they went in only to find an empty strongbox and the outlaws' abandoned horses. Obviously Jessee and his brother had discovered a secret exit.
The Meramec Caverns are not only a small museum of American history, they also helped make history. After the property was opened to the public in 1933, the owner, Lester Dill, taught his 11-year old daughter to put small advertising pamphlets on the rear bumpers of visiting cars, and in the process invented the world's first bumper stickers!
This historic cave complex is one of the more popular day trips from St. Louis, being located in Stanton, Missouri, about an hour's drive southwest of the Gateway Arch.
If you go on the 80-minute walking tour through the limestone grotto, you will see another historic spot where Kate Smith once sang "God Bless America." At this writing, tour prices are $19.50 per adult and $9.75 for children 5 to 11.
Cave hiking works up an appetite, so you may want to have some lunch at the cave's dining room after your walk. We enjoyed deep-fried Mississippi River catfish and hushpuppies as we chowed down under the watchful portraits of Buffalo Bill, Calamity Jane, and, of course, Jesse James himself.
For more information visit the Meramec Caverns website.
About the author:
Robert Scheer is a travel writer based in Vancouver, Canada. His website is http://pilgrimageplaces.com/