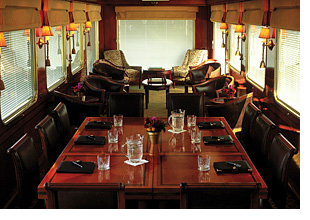 Invigorate your senses and ease yourself back into the easy chair of nostalgia with Africa's one and only Blue Train; true opulence on rails.

When you travel to Africa or find yourself amidst the company of the jet-set and globe trotting, simply mentioning Africa's Blue Train will bring on a flurry of nods and appreciative smiles.

This is so much more than a train, it's a once in a lifetime experience which marries the best of Old World hospitality with the panama hats, gin and tonics and linen suits of the colonial era.

More than a means to travel between Pretoria and the coastal city of Cape Town, the Blue Train is an opulent five star hotel and viewing platform from which to see the stunning landscape that is Southern Africa.

The ever-changing kaleidoscope of savannahs, jungle and villages will keep even an old Africa hand enthralled, whether you are viewing from your stateroom, one of the luxurious lounges or from the dining car whilst enjoying the best international fare.

Guests travel on the Blue Train, so named for its original bright blue locomotive, for two reasons; it is not only an exotic and luxurious experience and the epitome of romantic travel, but also a living memorial to South Africa's past, a legacy which has stood the test of time as it sails up and down the main trunk line.

The Blue Train has all but perfected its global repute as the years past. The experience is actually maintained by two separate Blue Train sets; the first train accommodating 82 guests across 41 suites, the other 74 guests in 37 suites as well as a conference or observation car.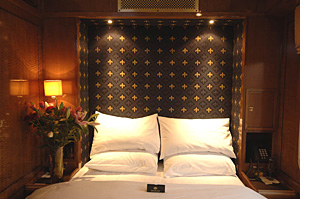 The luxurious accommodation features the finest bed linen, marble tiles and gold fittings in spacious bathrooms and the overall ambience of sheer opulence and sophistication will have you rarely wanting to leave your stateroom.
Each suite has its own bathroom with either a shower or bath. Naturally, the bed was custom made for the Blue Train and a comfortable bench lounge converts into an opulent divan with the pull of a butler's white gloved hand.
Cotton sheets and down duvets are standard across the train's suites and the beds are the perfect place from which to greet a new morning, perhaps over a cup of locally grown tea.
Luxury suites also feature stereos with CD players and an in-train video service. No battling the Africa heat, all public cars are fitted with air conditioning systems, while your stateroom features its own temperature controls as well as fresh air intake for breathing in the cool African night air.
Dress for dinner in a lounge suit or cocktail dress and descend through corridors of polished walnut to one of two lounges.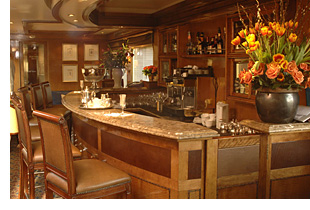 The Main Lounge car is perfect for lazy afternoon teas while the Club Car, where television sets show a driver's-eye view of the ever-changing landscape ahead, is popular for post-dinner cognac and a Cuban cigar. The poker players will love the Gentleman's club ambience where the gentle illumination from antique lamps takes you straight into the set of a Casablanca-like epic, where everyone could be an eloping couple, a spy or a vagabond.
Once you are ready for your meal, head through to the dining car for a truly memorable culinary experience. Catering to just 42, there are two sittings for lunch and dinner.
Although breakfast is casual and often enjoyed under the snug covers of your bed, lunch is smart casual and dinner is a jacket and tie affair – but who doesn't like dressing up now and then?
Dine at a table dressed in Sheffield cutlery and crystal glassware with crisp white linen table cloths and as each course is served by the finest waiters in South Africa, watch the sun die in the far off African horizon as the day merges with the night.
Blue Train menus are a chance to not only try your favourite international dishes, but also a few local selections that use traditional ingredients to inspire the palate.
Why not enjoy the Karoo lamb, seared gamey ostrich fillets or Knysna oysters accompanied by cultivars from the famed Cape winelands.
Prepared by internationally-trained chefs, dishes on the Blue Train are created from the freshest local produce and ingredients and matched with the train's famed silver service and compliment the travel with a culinary journey that is unforgettable.
In a world where transport has become about getting from A to B as fast as possible, all the while checking your email, it's nice to go back in time, to an era of opulence, finesse and sophistication.
The Blue Train is a fantasy journey, one of stunning hospitality, a breathtaking backdrop, and a true chance of a lifetime.
Travel Notes:
The route between Pretoria and Cape Town is a 27-hour journey of 1,600km. On the southbound trip, the train departs from Pretoria at 9:50am and arrives in Cape Town just after lunch the following day.
En route to Cape Town there is a stopover and excursion in Kimberley, where guests take a step back in time to the days of the diamond rush.
On the northbound journey, the train leaves Cape Town just before noon and arrives in Pretoria in time for high tea the following day. It stops at the historic town Matjiesfontein, where guests can visit the famous Lord Milner Hotel and the old car
museum.
This week Traveling Tales welcomes Nick Walton, a freelance travel writer from Sydney, Australia.
About the photos:
1: Overall view of the spacious Club Car.
2: One of the luxurious bedrooms.
3: The Bar is a popular gathering spot.